"La La Land" reminds to come back to reality
The world has sporadically seen musical movies over the past years, such as "Moulin Rouge!" and Broadway adaptations "Les Miserables" and "Rent." However, it's been a far longer time since musicals that have felt contemporary for its time yet classic, such as "Singing in the Rain," have been made. While being modern and tailored to audiences today, "La La Land" conjures nostalgia from the heyday of Gene Kelly on big screen again. This is the third feature film directed by Damien Chazelle, known for 2014's "Whiplash."
"La La Land" follows the relationship of two dreamers played by Emma Stone and Ryan Gosling working to become successful artists in Los Angeles – though casting more unknown actors would have made a larger statement. Mia (Stone), an aspiring actress, constantly attends movie and TV auditions, but has yet to be successfully cast. Sebastian (Gosling) is a musician who was fired by J.K. Simmons playing a jazz-hating restaurant owner, who ironically played a jazz ensemble director in "Whiplash." Sebastian, however, has a passion for the genre, and hopes to open a jazz club. The two meet, and they eventually fall in love. "La La Land" is a story about making the choice between chasing dreams or staying back with loved ones.
The film's opening scene begins with people in standstill traffic breaking into song "Another Day of Sun."  With the song's optimistic yet bittersweet lyrics, visuals full of vibrant colors and a choreography that highlights different individuals, the number foreshadows the rest of the movie. The other four songs in the movie consist of "Someone in the Crowd,"  "A Lovely Night," Golden Globe nominated "City of Stars," and "Audition (The Fools Who Dream)." Justin Hurwitz composed "La La Land's" soundtrack, and Benj Pasek and Justin Paul wrote the lyrics.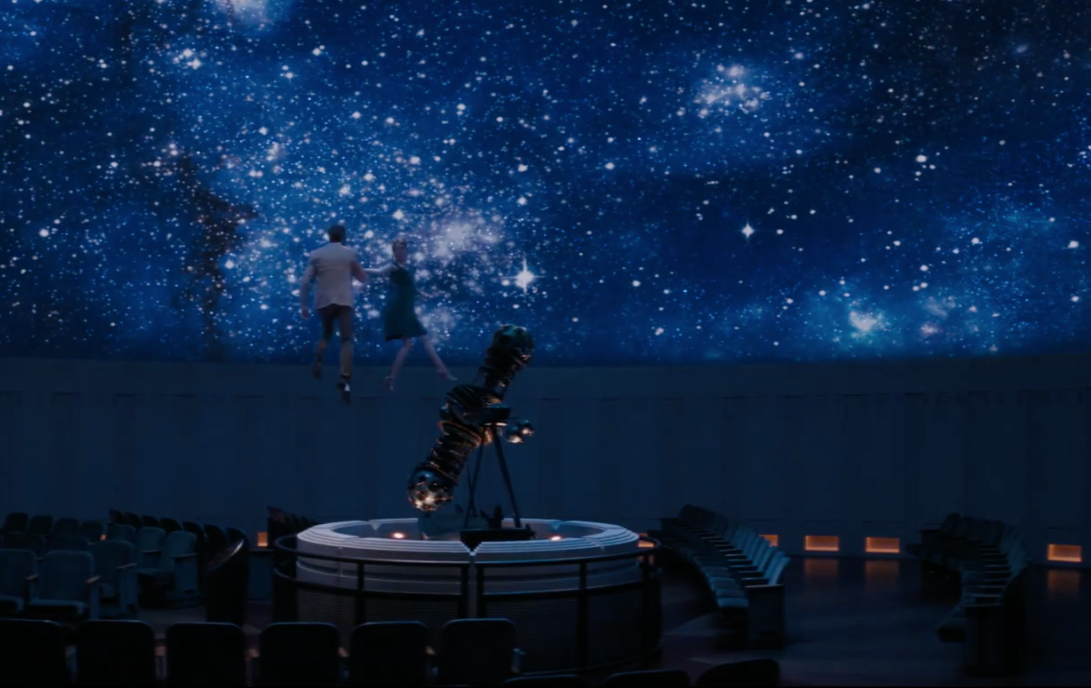 For the rest of the film's first half, viewers are swept away with a variety of singing and dancing, depicting an idealistic Los Angeles. Sometimes, the actions, such as Mia and Sebastian literally flying through space inside the planetarium at Griffith Observatory, seem absurd- but Chazelle makes it work. "La La Land" truly seems like a dream, humorous and happy, though viewers may know that it will only be a matter of time before some kind of conflict arises.
And inevitably, it happens. Mia and Sebastian's relationship begins to sour over the movie's underlying theme of choosing between career dreams or love. The lively songs that had captured viewers' attentions earlier on begin to teeter out, and are replaced by slower and more introspective singing and scores. Despite this shift, viewers remain engaged in the story, having the chance to reflect on the reality that there is no way for the characters' relationship to remain fantastical.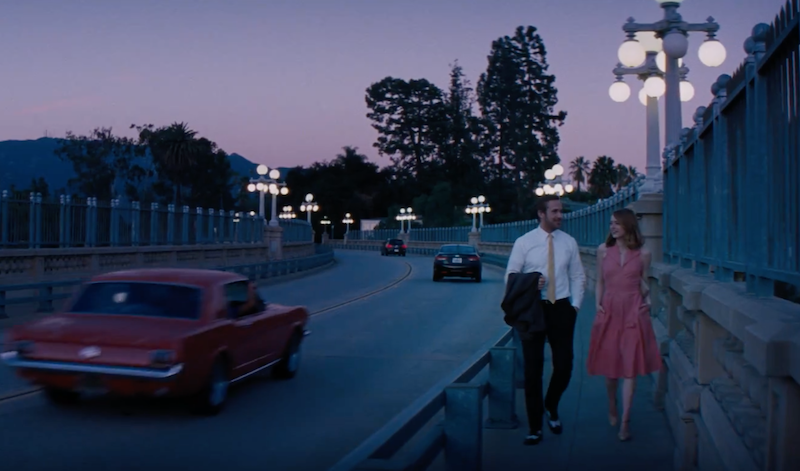 Each scene in "La La Land" is usually accompanied by visually stunning (or for lack of better words, aesthetically pleasing) cinematography by Linus Sandgren, where the lighting is colorful and enhancing focus on characters. For example, purple skies would highlight Mia's dress, or green background lighting contrasted with the characters' skin tones.

Both Stone and Gosling are being recognized for their work, and rightly so. Going back to the way the film pays homage to past Hollywood stars, the two actors display obvious chemistry between their characters. They make up the final component that brings Chazelle's movie together, and ultimately, pays homage to anyone trying to make it.
As "La La Land's" tagline goes, "Here's to the fools who dream."