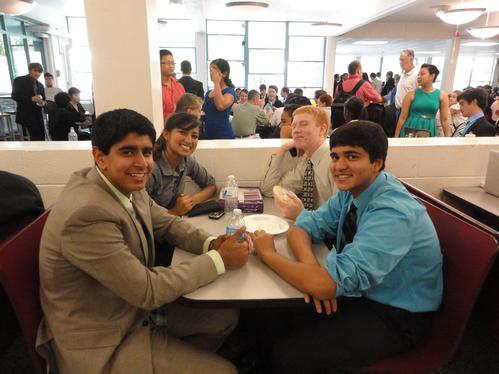 The debate and forensics teams got off to a head start for the year with the Wake Forest National Early Bird tournament. Though their eighth period meetings and local debate tournaments haven't started yet, many students took time on their own to get together and prepare for the competition.
From Sept. 7-9, 16 students attended the tournament in Winston-Salem, N.C. They participated in individual speech competitions and Policy, Lincoln-Douglas and Public Forum debate, so that Jefferson was represented in all categories of the tournament.
Because the tournament was so early in the school year, many of the competitors chose to prepare over the summer.  Jain participated in a summer forensics institute and some of the other competitors participated in practice rounds.
Senior Romita Mandal started participating in forensics last year, and Wake Forest was her first national tournament competing in speech competitions rather than debate. Mandal competed in extemporaneous speaking, which is an individual event.
"Because the tournament is structured around current events and speaking with little preparation, practice really is the only way to prepare," senior Romita Mandal said.
Senior Kyle Angelotti and Junior Varun Jain qualified for the semifinalist round in extemporaneous speaking, making them among the top 12 competitors in their competition.  Junior James Eagle advanced to octa-finals in Lincoln-Douglas debate, and sophomore Thai Le advanced to octa-finals in junior varsity Lincoln Douglas.
"More than anything, it was a learning experience for me," Mandal said. "I worked hard to perfect my speech techniques and it reflected in my performance."
Some students are already looking forward to another national tournament. From Sept. 21-23, juniors Nathan Dass, Adam Friedman and Vashali Jain and sophomores Siddarth Anand and Ruhee Shah will be attending the Yale Invitational Tournament.
Story continues below advertisement