Changes in homecoming t-shirt design shifts emphasis from class to school unity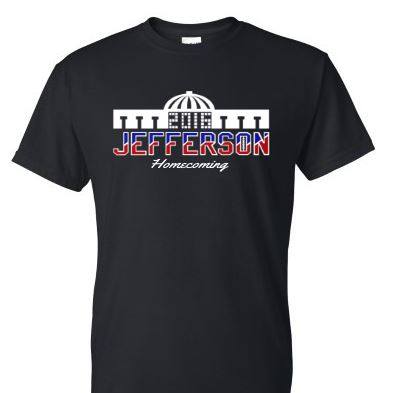 Expect to see new changes with the homecoming t-shirts at TJ this year, as a result of the SGA's (Student Government Association) and class councils' efforts.
Starting with this year's homecoming, all t-shirts will be black and have the same design across the four classes. TJ's faculty and students have voiced their opinion in favor of the change, as there are numerous benefits including a larger emphasis on school unity than class unity, and less aggressive competition.
"I always felt that making t-shirt part of homecoming a competition singled out the students. One is singled out as in they win, but the other students are singled out because they lost", TJ's football coach and math teacher, Michael Auerbach said. "Why not show school unity by having everybody wear a shirt that's the same color as this jersey, which is black. So, it kind of shows that the whole school supports the football team."
Along with TJ faculty, much of the SGA and class council students are in favor of this change for similar reasons.
"I loved the idea because it's a fun way to switch up the traditional homecoming events, while hopefully serving as a reminder that although homecoming week may be a competition between classes, we ultimately come out together on Friday night to support our team", class council member and t-shirt designer Sherry Xie said.
Although most SGA members, class council, and TJ faculty members have shown approval and excitement over the t-shirt homecoming change this year, there are still some drawbacks of making the t-shirt more unified across the classes. For example, the tradition of having a class t-shirt competition is lost in the process, which concerns some TJ faculty and students.
"I haven't heard any of the SGA kids, who I am with on a regular basis, mourn the loss of the individual t-shirts, at least for this year. Even the seniors, who could be the most affected by this, have all been positive at least from when I've talked to them. People don't like to get rid of traditions — 100 percent true", SGA sponsor and math department division manager Marianne Razzino said.
Even with the t-shirt design changes, the class colors will still be worn at the pep rallies this week. It is encouraged that students wear their black t-shirt to the homecoming football game this Friday night.
"Everyone should still be wearing class colors and togas for the pep rally. The shirts can be worn during the rest of the day and definitely at the game", Xie said.
On a final note, this year serves as a trial for homecoming t-shirt change. There is a possibility that the t-shirt change will occur next year if the votes after this year's homecoming consider this homecoming t-shirt idea to be a success.
"There is a chance that this will happen in the future", Razzino said. "Talk to your class officers, you know they go to the homecoming packet meeting and they can say, 'Yeah we'd love to keep t-shirt this way or oh my gosh that was a terrible experiment'. They're the ones who do everything and it really is student government."