Hiking on the Scout Trail at Claude Moore Park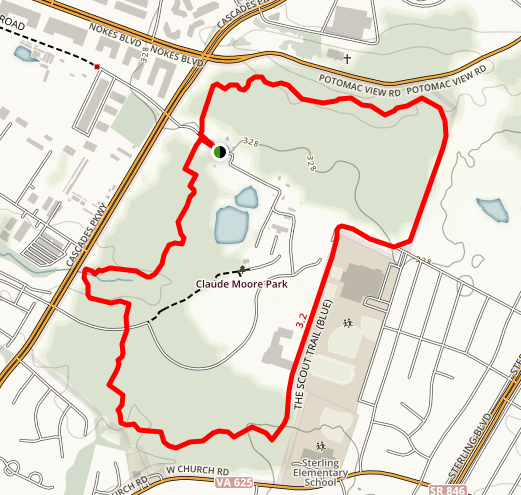 This weekend I had the opportunity to go to Claude Moore Park, which is a park with woods and meadows. The park also has trails, sports fields, and pavilions, which are located around the main Claude Moore Recreation Center. The trails are between 0.19 miles and 3.3 miles, and the one I hiked was the 3.3 mile one, which is called the Scout Trail.
One of the pros of hiking on the trail was that it was fairly easy. Even though I was wearing heavy walking boots and carrying around five pounds on my back, it was still an easy hike. There were only a few small hills that would only last for a few minutes, so nothing too challenging.
Another pro of the trail is that it is both kid-friendly and dog-friendly. I had gone with a few of my friends and one of them had brought her younger brother, who's eight years old. Although we had to stop a few times so he could catch his breath, he was able to complete the whole 3.3 mile hike.
One con of the trail was that it was very easy to get lost and get on a different trail. Although it is a loop, there are other trails that go through it that don't lead anywhere. So, if you miss a turn, you could end up somewhere else. This could also be because the markers that marked the trail were few and far between, so it was challenging to follow as a person who's bad with following directions.
Apart from being hard to follow, the trail is also very noisy. If you're looking for a quiet hike and time to reflect, this isn't the trail for you. There are roads surrounding the trail, so you're always hearing noise from the cars and trucks on the road.
The trail is also very muddy in some places, so you have to be careful if you don't want to get your shoes muddy. This could've just been because we went a few days after it rained, but from what I've gathered form reviews on the trail, it's muddy fairly often.
Overall I really enjoyed the hike. Although some sites say it is a moderate hike, if you're an experienced hiker or even an experiences runner, the trail should be fairly easy with you. It's also very fun it you take some friends with you so you can talk to them as you hike.