Now on Display: Infinity Mirrored Room at the Broad
To be frank, it all started with this picture that Fall Out Boy bassist Pete Wentz posted on Instagram:
The lights looked stunning, and I knew that getting to see it myself would make for an unforgettable experience. After looking further into the installation, it turned out that the "Infinity Mirrored Room" by Yayoi Kusama is on display at the Broad (pronounced "brode") in Los Angeles from the museum's opening date, Sept. 20 2015 to Oct. 2017. Kusama is one of today's most popular artists for her paintings and multiple "Infinity Mirrored Rooms". The particular installation at the Broad was a dark room full of flickering LED lights.
The Broad's website also wasted no time in letting potential visitors know that not everyone will be able to see the work. The "Infinity Mirrored Room" is made to hold one, maybe two people at a time for 45 seconds. Visitors can sign up for a digital queue, which "usually fills within the first two hours of the museum opening".
Fortunately, I was already planning to visit relatives living near Los Angeles, and I was able to book tickets to an early time slot.
When I arrived at the museum, I realized that getting to view the installation is not as difficult as it was made out to be. The staff were helpful in leading visitors to a kiosk where they can sign up for the queue.
Getting to enter the "Infinity Mirrored Room" was an out-of-the-world experience. The room did seem like it was expanding perpetually when I looked into the mirrored walls. Looking up, I could not see a definite ceiling, and the LEDs seemed to be sourced from space itself. The floor, besides the small platform I was standing on, was under very still water, which seemed like a mirror itself.
Despite varied opinions on viewers only getting 45 seconds in the room, I thought that it was a fair amount of time. I spent around 20 seconds taking pictures and allotted the remaining time to enjoying the artwork.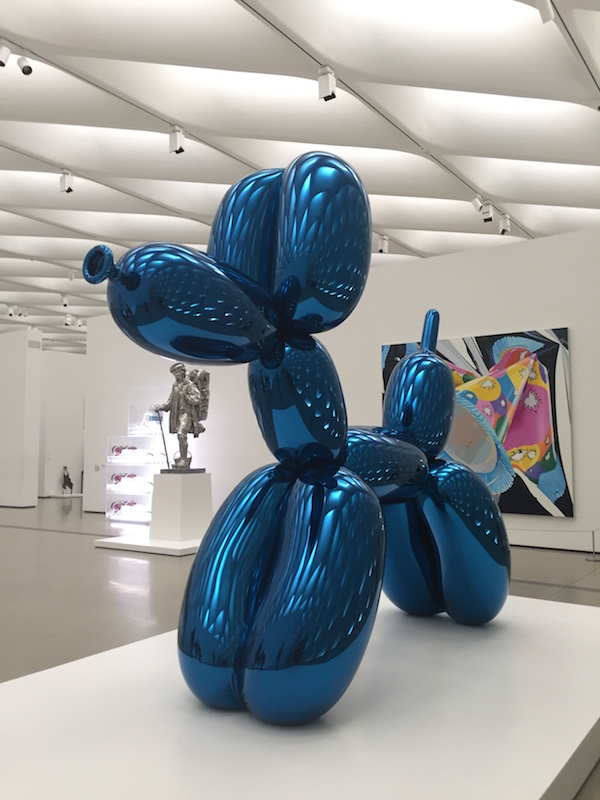 The rest of the Broad consists of modern art by artists including Roy Lichtenstein, Takashi Murakami and Jeff Koons. Though the gallery is small compared to other museums I have been to, it still is impressive. An added bonus is that visitors can get a glimpse of the museum's storage room on the second floor.
I would recommend visiting the Broad and "Infinity Mirrored Room" to anyone who can, whether they have an interest in art or not. For those who wish to view Kusama's work but can't make it to Los Angeles, the Hirshhorn in D.C. will be hosting six mirrored rooms, along with her other works in spring of 2017.