Composers Lulu Lin and Andrew Wang release third piece, EDM track titled "Sunrise"
While many Jefferson students seek to expand their horizons in the STEM field, juniors Lulu Lin (artist name H2SO4) and Andrew Wang (artist name W4V3S) have found a niche creating music. Lin and Wang released their third track, titled "Sunrise", on July 29.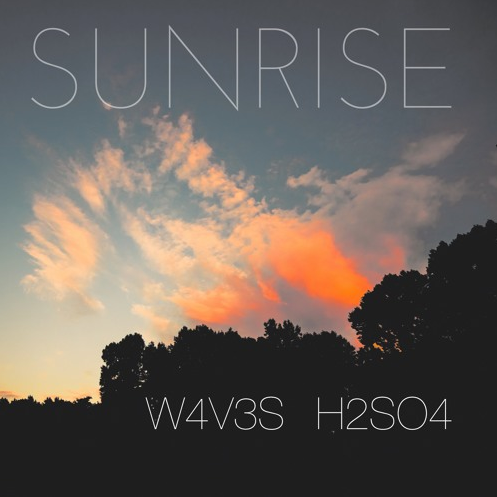 The electronic dance music (EDM) piece, peppy and fast-paced, features variations on catchy runs. Although "Sunrise" was not the first piece that Lin and Wang released, it was their first collaboration.
"I used to make electronic instrumentals of pop songs, which I posted on SoundCloud," Lin said. "One day, I think around the end of May, Andrew messaged me and said they were pretty good, and he suggested that we collaborate on something. We got started right away."
The reason for the delayed release of "Sunrise" was because Lin and Wang were debating whether to add vocals to the piece, deciding against it at the end. "Tropica", the duo's second release, is another uplifting EDM track that did not feature vocals. However, Lin and Wang's first song titled "Unspoken" did feature vocals sung by junior John Krause-Steinrauf. It is currently their most popular piece, having reached 7,895 listens as of Aug. 7.
"I think [Unspoken is a favorite] because it has vocals and the lyrics are deep and meaningful," Lin said. "It's about a guy whose girlfriend broke up with him because she felt like he didn't love her. She got over him, but he realized too late that he loved her."
Lin specializes in writing pop-structured songs, while Wang prefers EDM. Joining forces has encouraged them to work on music outside of their usual genres, offering their listeners a diverse selection of music. The duo are also better able to showcase their differences and strengths by collaborating.
"Andrew is really good at drums and special effects, and I'm good at writing harmonies and countermelodies, so that's what we each work on," Lin said. "The [pieces] that I write are usually somewhat pessimistic and angsty, while the ones Andrew writes are more optimistic and cheerful."
Despite their differences, both artists have experience creating melodies. Lin composed the melody of "Unspoken", Wang created the melody of "Tropica", and together they made the melodies of "Sunrise." Lin recalled the main melody of "Unspoken" from her dreams, adapting and building off of it to complete the entire song.
"I usually come up with the melody itself, and then I figure out what the chords are," Lin said. "I determine what the chords for the verses and the bridge should be, based on how most pop songs are structured nowadays, and then I play the chords on my piano and hum random melodies until I find one that I like."
As of now, creating music is a hobby for Lin. She does not plan to pursue a musical career, but hopes to continue writing pieces with Wang throughout college and beyond. Lin's favorite part of the music-making process is experimenting with a variety of sounds and styles.
"The great thing about working with Andrew is that his creative process is way different from mine, so it's something I can learn from, and as a result I'm starting to experiment with EDM instead of just making pop-style songs," Lin said.
Lin and Wang plan to release another track, most likely in early Sept.