Characterizing the curator: an interview with Dr. Jeremy Kinney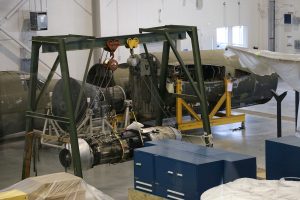 Dr. Jeremy Kinney curates three collections at the Air and Space Museum: aircraft propulsion systems, air-racing and motorsports as well as military aircraft from the interwar period, which spans from the 1920s through 1940s. He also conducts research for various projects, such as writing a book, and presents to the general public. On April 9, tjTODAY interviewed Dr. Kinney, curator in the aeronautics department at the Smithsonian National Air and Space Museum's Udvar-Hazy Center.
Q: Can you describe your job as a curator?
A:  My expertise is in flight in the first half of the twentieth century, so I'm in charge of three collections: aircraft propulsion systems, so propellers and piston engines, which look at my interest in the technical development of flight technology. I also [manage] air racing and motorsports, competition and individual expression and how airplanes are built for that. And then I [curate] 1920s [through] 40s military aircraft of the United States, which is a fairly unknown period. It's my job to interpret and place artifacts in the appropriate context, so sometimes we write books for other academics but our primary goal is to take our expertise and our knowledge and to present that to the public.
Q: What do you look for when you study artifacts?
A: You study why [the artifact] is important and what is the story of the people who flew in it, but you also have to know what bolt fits where and what's the shade of green on the airplane.
Q: How do you get information for your research?
A: I just finished a book about the history of airplane propellers, and I used our archives extensibly for that, so a lot of what we have at the museum exists for the curators to use just as much as the public.
Q: How do you present your research to the public?
A: There's a very specific research component of writing books but there's also exhibits and interacting with the public through general presentations or events like [Student Press Day] to share what we do.
Q: What is a challenge you face as a curator?
A: The number one challenge is time management, you're always trying to balance between the collections work, the exhibits work and the public service work. Since you're involved in so many things, on so many levels, someone's always going to have a reason for you to have a meeting the day that you said, "I want to write that day".
Q: Was becoming a curator at the Air and Space Museum always your goal?
A: I never thought I'd be working at the Air and Space Museum; my intent was to be a history professor at whatever school I could get job. But in terms of academic history, you get your degree and then you go where the jobs are available, and since this was primarily an academic position that I qualified for, I was able to end up at Washington D.C., which I'm very happy with.