Jefferson History Bowl team participates in History Bee and History Bowl nationals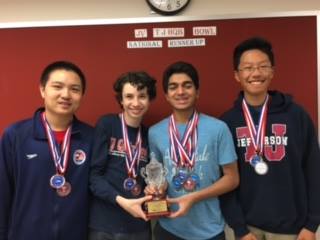 The Jefferson History Bowl team qualified two teams into the national History Bee and History Bowl competition based on the results of a previous Washington DC regional competition. On April 22-24, the team competed in the three-day national competition in Crystal City, DC.
The team, which first began in 2014, is split into two divisions: varsity and junior varsity (JV). Varsity consists of grades eleven and twelve, while JV consists of tenth grade and below.Teams of four work together to answer questions related to topics in history for the bowl. The History Bee is the individual counterpart to the bowl. In the bee, students compete by themselves.
"Questions are about some topic in the history of anything, and clues about the answer are arranged from hardest to easiest- that's what makes the competition challenging," freshman Benjamin Xu said. "Preparing for History Bowl promotes some pretty important skills, such as the precise recall of memories."
Jefferson achieved their best results ever in the competition, with the JV A- team earning second place of 102 teams in History Bowl. Five Jefferson students achieved quarterfinalist status in the JV National History Bee including Rohan Hegde who placed second, Grant Li, Alex Howe, Andrew Wang, and Fred Zhang. In the JV United States History Bee, Rohan Hegde and Fred Zhang were semifinalists. Alex Howe was a finalist in the Junior Varsity United States Geography Olympiad.
"I learned the importance of teamwork at nationals. The team could not have gotten this far without any one of its team members," sophomore Rohan Hegde said." "I also learned the importance of hard work and I saw my hard work pay off with my team and individual performance."
Jefferson History Bowl wasn't always as successful. Since its conception in 2014, the team has overcome many challenges.
"We were a relatively obscure team when we started," sophomore Andrew Wang said. "One of the main challenges was going against other schools with great reputations. We would spend the whole round behind the opponent score-wise, thinking we were going to lose, then we would get it together, make a comeback, and win the game."
During the road to nationals, each team member was required to study for the competitions on their own. Although they met every Wednesday A block, the team meetings focused on teamwork aspects of the competition. Much of the preparation was done individually.
"Each team member put in countless hours of studying in order to reach their current skill level," freshman Fred Zhang said. "The amount of studying that had to be done [was a significant challenge]."
History Bowl team members continue setting goals for the future.
"I will be moving up to the varsity division next year," Hegde said. "Although varsity will be harder than JV, I feel that I will be ready to step up to this hard task. I hope to win the national History Bowl sometime in my career."