New Season of "Daredevil" Packs a Punch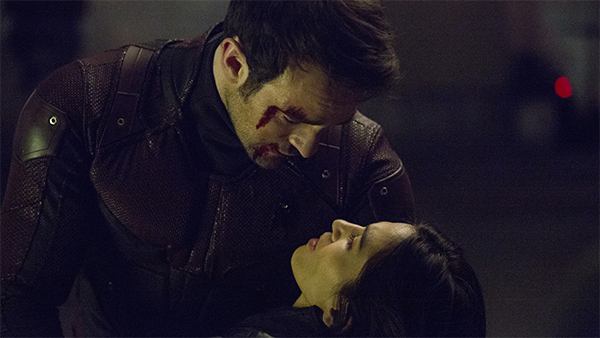 The countdown is over. The sunrise of March 18 saw the entire "Daredevil" fandom race to see who can watch all thirteen episodes of Season Two, released at midnight on Netflix. The first season of "Daredevil" debuted a series of Marvel comics created for Netflix. Although adapted from the original Marvel comics, they've been rewritten and reading the comics isn't a prerequisite.
Charlie Cox plays Matthew Murdock, a blind lawyer by day and the vigilante Daredevil by night. His supersenses of touch, smell, and hearing allow Daredevil to pass as sighted. Old complaints from season one remain. Cox isn't blind himself, robbing blind actors of a role to which blindness is central. Elden Henson is Foggy Nelson, Matt's close friend and partner in the law firm Nelson & Murdock. Deborah Ann Woll is their indefatigable legal assistant Karen Page.
This season introduces two fascinating new characters, Elektra Natchios (Elodie Yung) and Frank Castle (Jon Bernthal). The season ends splitting time between their two story arcs, which might be annoying if you're more interested in one than the other. Elektra dated Matt in college and returns to join him fighting their old trainer's old war. This takes time away from Nelson & Murdock's difficult fight in the Frank Castle case, straining his relationship with Foggy and Karen.
Frank is a different kind of vigilante. He massacres gangs in their home territory with his extensive military experience, earning him his nickname The Punisher. His wife and children were caught in the crossfire of a gang shootout, and this is his revenge. Neither have any qualms about killing their opponents, which causes a moral struggle for Matt, who refuses to kill.
The fight scenes are remarkable. One of the most memorable scenes of the first season was the hallway fight, with the camera moving backwards as Daredevil brought down assailant after assailant. This season delivers that excitement tenfold, with Daredevil against an entire gang of bikers as he descends through several floors of an apartment building, all in one shot.
This new season is much more violent than the first. In one of his first appearances, after purchasing a duffel bag of black market police radios, Frank bashes the seller's head in with a baseball bat after discovering that he also sells child pornography. He's bloody and bruised more often than not, and gives even better than he gets. Elektra spills no less blood, as her preferred method of takedown is to slit her opponent's throat.
The romance Matt and Karen seemed awkward and forced. Season one set up flirting between Karen and Foggy, who get along much better. Matt's love interest of the first season, Claire Temple (Rosario Dawson), broke up with him because of his unpredictable vigilante life. It's a valid complaint. Luckily, Netflix makes it easy to skip through the awkward date scenes.
If you don't mind violence, "Daredevil" provides the perfect mix of legal battling and bloody close-quarters combat. The characters are all fascinating. Every episode of both seasons is available for instant streaming on Netflix.