Ending winter track on a good note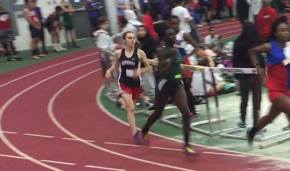 After attending the winter sports banquet on Mar. 3, winter track participants left the school with pride for their sport and much anticipation for the future seasons to come. During the event, participants were able to spend their time with their teammates to review the past season.
"I think we all improved a lot since the beginning of the season in that we feel a lot more comfortable with pacing and those types of skills," freshman Anne Nguyen said.
However, while track students agree that the season was successful, they also understand that there were many setbacks and hardships they had to overcome.
"The weather was definitely a challenge," Nguyen said. "There were these two days at the end of the season when it was 20 degrees or so and we were doing a workout. The wind hurt so much. Also, running after the huge snowstorm was an interesting challenge since the snow covered all the sidewalks."
Regardless of the setbacks, students have made personal goals for themselves in order to make future seasons more successful.
"I think a personal goal is to run more over the summer to get in shape for cross country and track," junior Kristen Halper said.
After enjoying the winter season of track, many students have decided to continue their track career with spring track and field.
"I am definitely continuing with track because I am not even close to being the fastest runner, so my goal is really to improve, with which practice is pretty much the only factor," freshman Kevin Liang said.
And while not all of the students are continuing with track next season, many of them are starting new sports that build upon the skills they learned from track.
" [Track is a benefit] for helping me stay in shape for my spring sport, soccer," Halper said.
Nonetheless, while some are sad that winter track has ended, students are looking forward to the future seasons yet to come in order to spend time with the team they have become close with. Track students are excited for the coming meets in their next season, and have high hopes as to what will come.
"I've always wanted to go to a meet that not everybody gets to go to," Liang said. "They happen on Saturdays and generally only the faster people get to attend."
So with the many achievements and goals that students have reached, and that they now hope to reach soon, the track team will continue to take one step forward at a time, regardless of the past, and have a positive outlook on the future of the track team.
"I felt kind of empty after school when I couldn't go out and run with my friends anymore, but it's nice that spring track is the same thing, just warmer," Liang said.