Reboot for Youth Garners Attention from Nickelodeon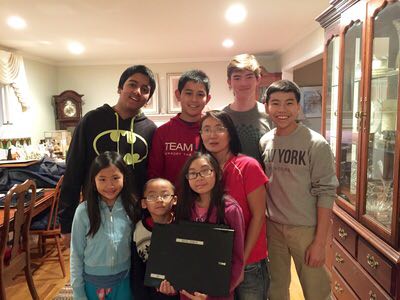 Kicking off with 16 year-old Jessica Collins, Nickelodeon's "The HALO Effect" debuted highlighting young philanthropists influencing others to make positive change in their communities.
Reboot for Youth, a service club at TJ, refurbishes technology to donate to families in need and attracted the attention of Nickelodeon who asked them to feature in their next episode of "The HALO Effect" late last year.
"They found us through the local news. They were looking in the DC area for local non-profits, and they saw Reboot for Youth," junior and co-president Chris Cao said. "I received an email from the Nickelodeon producers, and for three months we were just emailing back and forth; they were trying to get a sense of what we did."
Reboot for Youth meets every Saturday to provide families in need with technology that has become more and more necessary in everyday life.
"We meet for a couple hours and refurbish computers. That's also when families come in. We talk to them, find out their situation and give them a computer and a tutorial on what they're receiving," Cao said.
Nickelodeon followed Reboot for Youth for one week where they filmed them giving back to the community.
"It was about nine hours every day of filming. They set up a lot of different activities – for example fixing computers or hosting hardware drives or going to families and donating them computers. [It was] just normal things we would do but staged for the purpose of television," Cao said.
One of the families whom they donated to included director of publicity and outreach, sophomore Vivian Gruendel's former nanny.
"They filmed me surprising my nanny's granddaughter with a computer, because they didn't have one at home. I'd known about it for a while and I figured that this was the perfect way to raise awareness about how some people in our education system don't have computers," Gruendel said.
In addition, the organization donated to families in Katherine-Hanley shelter that were a part of the Shelter House program for filming.
"[It houses] families in tough economic situations. After the family are financially stable, they move out and get their own house within the vicinity of the original shelter. We donated ten laptops to 10 families who were living near that shelter. They filmed us showing the little kids how to use their computers and showing parents how to use it for their purposes," Gruendel said.
To watch Reboot for Youth's episode of "The HALO Effect," catch it airing on Nickelodeon early this summer.