Zayn Malik's "Pillowtalk" climbs to the top of the charts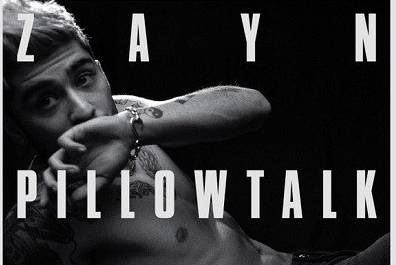 Zayn Malik's new song, "Pillowtalk," is nothing like the music produced by his former band One Direction. The song features suggestive lyrics and the music video contains graphic imagery – definitely something that One Direction's younger fans should not watch. The phrase 'pillow talk' itself has quite a risqué meaning.
Now a solo artist, Malik left One Direction in March 2015. Recently the artist revealed to People Magazine that he had never wanted to be in the band in the first place, and he had considered leaving for a long time since the band had formed in 2010.
"I never really wanted to be in the band," Malik said. "I just gave it a go because it was there at the time."
Malik also told People that one of the biggest reasons for leaving the band was because of the course One Direction was going in with their music.
"I think the boys kind of knew – in terms of the music – that wasn't my cup of tea. They obviously didn't want me to leave, but they couldn't talk me out of it at that point. I'd already made my mind up," Malik said.
"Pillowtalk" is Malik's first song as a solo artist, and despite its sensual lyrics, Malik insists that Pillowtalk is not all about what goes on in the bedroom.
"The actual intent of the song is even though you have great times in a relationship, you have really bad times as well but that's what makes it worthwhile because you learn things and you go through experiences that bring you closer together," Malik said on Feb. 2 on the Elvis Duran and Z100 Morning Show.
For the first, time fans are able to hear Malik's voice exclusively in a song, and the catchy ballad shows of the range of Malik's voice.
Fans are receiving this first single very well, and the song has landed the number one spot in 60 countries within weeks of its release. This can be chalked up to the use of catchy, although suggestive, lyrics and beats. The beats themselves expertly incorporate an almost techno sound, similar to how Justin Bieber used them to accentuate his lyrics in "Where Are You Now", a popular song in 2015.
Fans of Malik and "Pillowtalk" are already awaiting more singles from Malik, and there's no doubt that, if they're of the same caliber as "Pillowtalk," they'll rise to the top of the charts.