More snow days may mean increased stress for students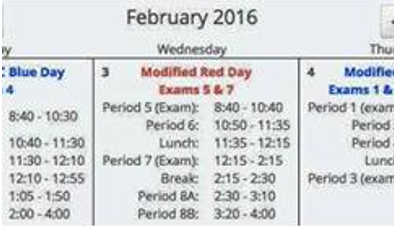 It is no secret that students enjoy their extra snow days and their time off from school. Having no school allows them to catch up on sleep, complete homework, or just relax and unwind after a possibly stressful week at school. However, having too many snow days, as in the past week, may lead to detrimental effects on students as the break wraps up.
With an increase in days closed, previously scheduled assessments, including midterms, have been continuously pushed back. Now, when students return to school, they must work extremely hard to perform well on all the tests and midterms that have piled up. To make matters worse, due to a four day week before the end of the semester, the assigned midterm schedule allows practically no room for teachers to review the materials with students, and they will not have an opportunity to ask teachers for help with concepts they do not understand before their exams. Although students can email their teachers, they will not get the benefit of a more personal interaction with their teachers, and it will be more difficult for students to ask follow-up questions if the subject matter is still unclear.
"I really do enjoy in class review, especially right before tests and quizzes," freshman Grace Stewart said. " I enjoy this because it allows any last minute questions, and, frankly, it is great to get that last minute answer, remember it until you get your test, then write it down really fast to help you later."
For students, these exams are extremely important. This is especially the case for students in semester classes, who need to perform well on these exams to either bring up or maintain their final grade in the course. Furthermore, these exams are vital for seniors, who need to achieve a good first semester grade in order to have a greater chance of being admitted into the college of their choice.
"Doing well on semester exams is pretty important, since your regular decision colleges will see your first semester grades," senior Reema Patel said. "These exams can either make or break your grades. Especially if you have a borderline grade, like an A-, these exams are your last shot to bring it up, which is why doing well is so critical, so I am a little stressed out about them."
This pressure to perform well without review or teacher aid may result in increased stress for some students. Moreover, after a long, unexpected break, teachers tend to shift into high gear by assigning more homework and projects to make up for lost time, and with only four days left in the quarter, this may lead to even more unhealthy levels of stress.
"This upcoming week will be very stressful because a lot of teachers have not updated their schedules and there are still units we have not done," freshman Jocelyn Liu said.
On the other hand, while teachers use these snow days to allow students to study and relieve the stress of future, immense work, not all students take advantage of that time. For these students, the number of snow days they are given does not affect how they tackle their work load. Ultimately, they may just spend their last days off to stress out about completing unfinished assignments. In this case, having fewer days off would prove to be more beneficial to students as they would be provided ample in-class review time and could potentially perform better in their classes.
"This break I spent half of it on vacation, but I do wish that I had spent more time on homework and studying, instead of cramming it all into Sunday," Stewart said.
Although FCPS' decision to close schools the past week may cause stress among its students, it did help prevent potential accidents from occurring. Thus, fewer snow days were not necessarily possible. However, while a few days off from school has its benefits, too many days off may lead to unforeseen consequences in the near future. Nevertheless, students understand that it is vital to use these last few days off to prepare for their upcoming midterms and exams.