Lack of diversity in Oscar nominations stirs discussion on race in the film industry
For the second year in a row, the Academy of Motion Picture Arts and Sciences (AMPAS) announced on Jan. 14 all white candidates for their Actor in a Leading Role, Actress in a Leading Role, Actor in a Supporting Role, and Actress in a Supporting Role categories. This means that in the past two years, a total of 40 actors and actresses were nominated, and none were people of color. In the other categories, nominations for people of color are also few and far between. It wasn't long before people took notice, including Jada Pinkett Smith. Hashtag #OscarsSoWhite was also trending on Twitter following the announcement.
People can only treat us in the way in which we allow. With much respect in the midst of deep disappointment. J (pt 3)

— Jada Pinkett Smith (@jadapsmith) January 16, 2016
Generally, people that see no problem with the nominations believe that there weren't any actors of color to nominate. It's true to an extent; the majority of American films feature white actors, but there were a few popular and high-rated movies headlining non-white actors in 2015. For example, African American Idris Elba was nominated for a Golden Globe, British Academy of Film and Television Arts (BAFTA) award, and Screen Actors Guild (SAG) award for his supporting role in "Beasts of No Nation", but the movie has received no recognition from the AMPAS. Critics have also acclaimed the black and white actors in "Creed", but the only nominee from the film is white Sylvester Stallone. It's also notable that Stallone was nominated for an Oscar in 1977 for his role in "Rocky", a film in which "Creed" is a sequel to. Both films were well received, but Stallone is the only one who has been nominated for the accolade.
It doesn't help that the AMPAS voting members were an overwhelming 94% white, 77% male, and 86% over-50-years-old in 2012. This is important to consider, since personal views and upbringings can affect member votes. AMPAS president Cheryl Boone Isaacs, who is black, issued a statement regarding the matter on Jan. 18, and announced actions to diversify the members of the AMPAS on Jan. 22.
A statement from Academy President Cheryl Boone Isaacs pic.twitter.com/Nqhgc7sbqG

— The Academy (@TheAcademy) January 19, 2016
We're making changes. New Academy membership and voting diversity initiatives announced today. https://t.co/Arna4YvgY1

— The Academy (@TheAcademy) January 22, 2016
Though the AMPAS does have issues with nominations surrounding white people and European movies, the larger problem, as mentioned by Spike Lee in a Good Morning America interview, lies within the movie industry itself. After all, production companies are the people with the authority to approve or veto the films to be made. Many casting directors and producers seem to regard white as the 'default' ethnicity for characters. Opportunities for actors of color are generally limited to playing "that one [insert race here] character" or playing roles in historical movies. For example, black actors were last acknowledged by the Academy Awards in 2014 in "12 Years a Slave".
The controversy over the nominations mainly focuses on the lack of African American actors and actresses, though a combined total of nine Oscars have been awarded to Latino and Asian actors. Actress Charlotte Rampling stated that the Oscars controversy is "racist to whites," but that can't be a valid statement if whites were always in the majority, and the percentage of roles given to them are higher than their population in the U.S.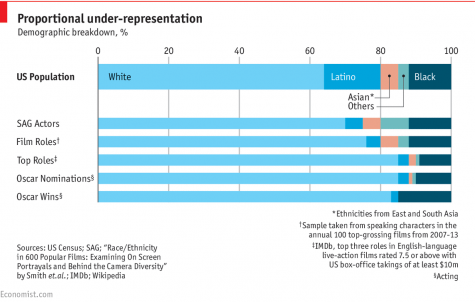 The response to the 2016 Oscar nominations brings to light the lacking diversity in films. Meanwhile, the television industry seems to have progressed more, with Viola Davis winning an Emmy for "How to Get Away with Murder" and Gina Rodriguez winning a Golden Globe for "Jane the Virgin" in 2015. Besides, diversity could make entertainment seem more interesting for people of color to watch. Alan Yang, when accepting a Critics Choice award with the cast of Netflix show "Master of None", jokingly thanked "all the straight white guys who dominated movies and TV so hard, and for so long, that stories about anyone else seem kind of fresh and original."