TJ Active Minds Eases Pre-Midterms Stress with Motivational Messages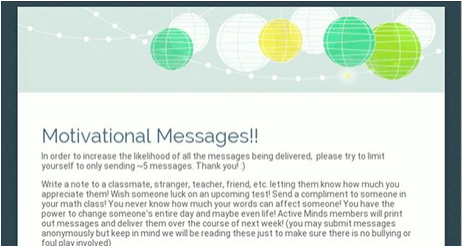 "MOTIVATIONAL MESSAGES ARE BACK," wrote senior Cheryl Mensah, an Active Minds member, in a post in the Class of 2017 Facebook group, a medium of which Jefferson students take advantage to notify each other of school happenings and opportunities. She attached a Google form in which anyone could fill in their name or "anonymous," the name of the recipient, and their own personal message, which would be delivered on paper for free. Included in the form was a comment specifying that the Active Minds members would be screening the messages to prevent bullying or foul play. Students from every grade shared her excitement, submitting over 377 messages in one week.
By the beginning of the week on Monday, January 11, 2016, Active Minds members like Mensah had their work cut out for them. To help the 30 members of the club accomplish the formidable task of printing every message and finding each recipient among the 1,900 students at Jefferson to deliver it, they enlisted volunteers. Active Minds members believe that the gratification of making students happy is well worth the work of delivering the paper slips, like sophomore Active Minds member Jahnavi Prabhala, who said "The best thing about being a messenger is the glow on the person's face when you give them the note."
The messages are intended to cheer up busy students during January, a month of many projects, tests, and midterms at Jefferson. Prabhala emphasized the importance of the Motivational Messages initiative during a time when "Everyone is so stressed."
The Active Minds club has many specific goals for their purpose at Jefferson, and initiatives like Motivational Messages are part of a large campaign for mental health. They have a blog and twitter page, which includes letters from current and past students as well as many posts reminding and encouraging students to take their mental health into account along with their academics. One of these online measures took place simultaneously during Motivational Messages week: junior Anusha Balani recorded videos of current students explaining how they learned to manage stress over the years. She will soon compile them and post them onto the Active Minds blog for Jefferson freshmen.
The blend of accessible online information and activities at the school makes Active Minds "very successful," in Prabhala's opinion. Mensah added, "Things like anonymous online compliments are nice, but I've always thought that there's something special about receiving a tangible note in your hand." The process of organizing and executing Motivational Messages during school hours is more difficult than purely sending them through an online medium. "It's a little stressful, I won't lie," said Mensah, "but it's worth it to see how genuinely surprised and touched some people are to receive them. It's the kind of thing that brightens someone's day."