Welcome to Panic! at the Disco's "Death of a Bachelor" era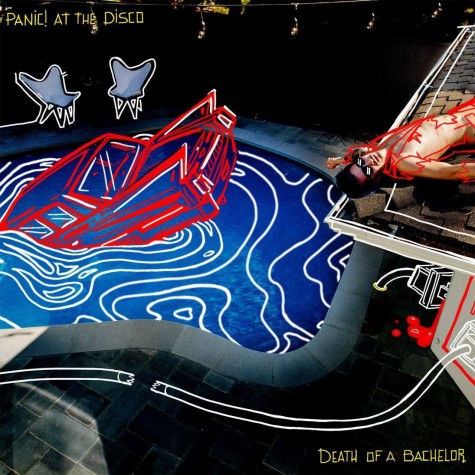 Panic! at the Disco is known for greatly varying musical styles in each one of their albums. Featuring anthemic lead single "Hallelujah", Panic! at the Disco's latest album, "Death of a Bachelor" was officially released on Jan. 15. It consists of numerous tracks that blend different influences well, though there are also less impressive songs.
Sole remaining member of the rock band Brendon Urie calls the album a "mix between Sinatra and Queen," with its lively beats and dramatic inflection. Lyrically, much of the album is reflective of Urie's life. The subject of title track, "Death of a Bachelor", is his marriage to Sarah Urie, for example.
Since their debut in 2005, the band has undergone numerous lineup changes. Last year, Panic! at the Disco was left with one official member, Urie, when drummer Spencer Smith departed for personal reasons and bassist Dallon Weekes became a touring member.
"Death of a Bachelor" opens with spirited track "Victorious". Though the composition sounds conventional, amusing lyrics such as "double-bubble disco queen / headed to the guillotine" succeed in conveying an optimistic tone.
Sounding like a Disney villain's theme song, "The Emperor's New Clothes" is another notable track. Urie refers to a new stage of Panic! at the Disco, beginning with lyrics "welcome to the end of eras". The music video for this song is a continuation for the video for "This is Gospel", a song from the band's previous album. In"The Emperor's New Clothes", Urie is pictured succumbing to hell, and when put in context with the lyrics, the song is about the band's circumstances; Urie may be the only member left, but he enjoys having creative power to himself. 
"Crazy=Genius" neatly incorporates brass instruments, making for a dynamic sound. The lyrics "she said you're just like Mike Love, but you'll never be Brian Wilson" and "you can set yourself on fire, but you're never gonna burn" stand out and cleverly add depth to the simple yet engaging chorus.
Contrasting with the start of "Death of a Bachelor", "Impossible Year" ends the album on a bittersweet note. Urie's vocals shine throughout the slowly paced song. However, the way Urie used such a heavy Sinatra influence without adding his own twist to it made "Impossible Year" one of the weaker songs on the album.
Even as a solo venture, "Death of a Bachelor" manages to retain the sound that makes Panic! at the Disco unique. Perhaps it is because this latest album sounds reminiscent of previous ones, "A Fever You Can't Sweat Out" and "Vices & Virtues". More likely, though, it is the way that Panic! at the Disco has explored unique sounds. After all, curiosity for what new genres the band will integrate next has kept fans listening for years.