Superintendent Garza's "no cuts" budget proposal raises eyebrows from Jefferson community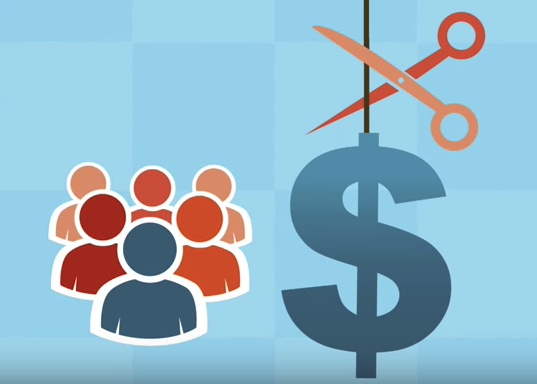 Thursday, Jan. 7 seemed like a monumental day for teachers and students across Fairfax County—for it marked the day that Fairfax County Public Schools (FCPS) Superintendent Karen Garza announced her proposed budget for the 2016-17 fiscal year (FY). But was it really?
Garza and the FCPS board had been contemplating possible budget cuts ever since she announced a $70 million deficit for FY '17 last year. In hopes of inspiring staff and students to rally around the cause, the county initiated a proposed budget tool and campaign, #saveFCPS, as a way to garner attention to FCPS' dilemma.
At a press conference at West Potomac High School on Thursday, Garza announced that her proposed $2.7 billion budget for 2016-17 would consist of no cuts to staff or programs, raises on teacher salaries, decreases of all elementary school class sizes to under 30 students and allocating $10 million to hiring more staffing to elementary schools.
However, although this means that eighth period will remain unharmed next year according to Garza's budget, teachers and students at Jefferson have yet to jump for joy. In fact, to computer science teacher Ria Galanos, Garza's announcement hasn't really ameliorated the budget deficit problem at all.
"I was definitely excited to hear that Garza supports education so much that she wants to fully fund the budget and not create any cuts for the future," Galanos said. "However I'm still holding my optimism because I've realized that her announcement was only a proposal, and she must be approved by the Board of Supervisors who may not choose to provide this full funding."
Galanos sees Thursday's proposal as nothing more than a statement of Garza's in support of teachers and education in FCPS. Surprised that so much media buzz had been created on such an indecisive event, she, along with many other students and teachers at Jefferson, hopes that the finalized FCPS budget will be as gracious as this one.
"I have to say that I kind of doubt the budget will be passed by the Board of Supervisors," junior Bailey Knight said. "Given how big a deal has been made out of finding places to cut funding so it can be used elsewhere, it just seems very unlikely that a budget with no cuts but instead increases could be put into place. I think we need to be cautious before we celebrate 8th period and sports being kept, because there is such a chance that the budget could just not be passed."