It doesn't have to be rocket science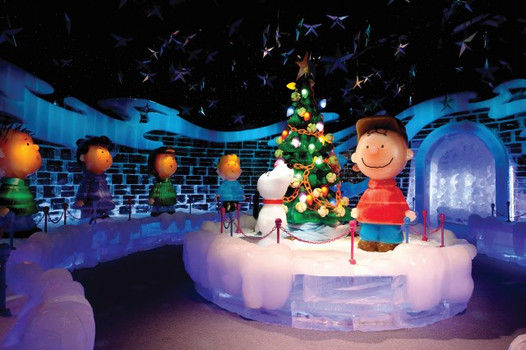 [continued from the December tjTODAY issue]
Celebrate part of your break by exploring winter-infused science topics you wouldn't think about on a daily basis
Investigate 'ICE!'
'ICE!', held from Nov. 21 to Jan. 3 at the Gaylord National Resort, is comprised of hand-crafted ice sculptures that weigh a total of two million pounds. Stored indoor at nine degrees Fahrenheit, the theme for this year's showing is a tribute to the 45th anniversary of the television special "Santa Claus is Comin' to Town".
The atrium of Gaylord Hotels also contains a 60 foot tall Christmas tree designed with synthetic "candy" glass, which lights up every afternoon during the tree lighting show coordinated with a fountain dance.
Practice Programming
Teaming with online learning community Coursera, the University of Michigan holds a "Programming for Everybody: Getting started with Python" class to teach beginners the fundamentals of using Python. Lesson material includes "Variables and Expressions" and "Conditional Code", among other topics.
Associate professor of the School of Information Charles Severance will teach the class, and enrollment continues until Dec. 21. Access to course materials only requires one to sign up for the online class. However, if a student chooses to purchase the class, a course completion certificate and all grades received will be available to them.
Notice NVTC
Northern Virginia Technology Council (NVTC) is hosting a conference featuring  John Chen, Chief Executive Officer (CEO) of BlackBerry and previous CEO of Sybase Inc. On Dec. 16, Chen will have a discussion with Gary Shapiro of the Consumer Technology Association about topics including his BlackBerry company's emphasis on security as well as the benefits and setbacks of innovation. Registration begins at 7 a.m. in The Ritz-Carlton of Tysons Corner. The conversation with Chen will take place from 8 a.m. to 9:15 a.m.
Give to Goodwill
Non-profit organization Goodwill accepts non-functioning, old computers and recycles the e-waste. This program allows donors to get rid of unwanted technology in a process that helps preserve our environment. Goodwill plans to restore and sell the donations, whose value will provide jobs for individuals in need.