Red Starbucks cups aren't an attack on the holidays, so leave them be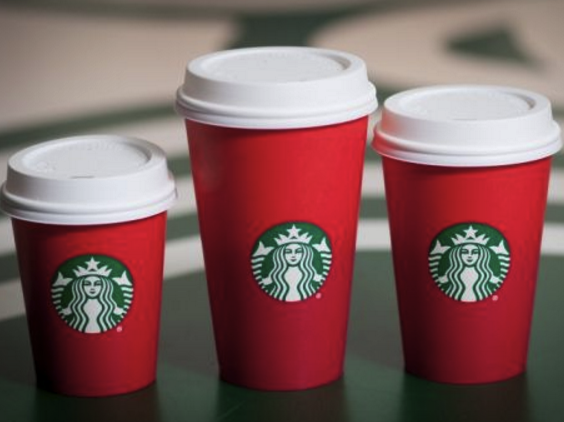 Adam An, Guest Writer
November 28, 2015
What's the big deal about early Christmas preparations in November? If it makes the stores bank, I'm all for it. When you phrase it as "Thanksgiving versus Christmas," debate all you want. Phrase it as "no money versus money" and there's no argument— nice and succinct.
Of course most stores this year have all forgotten about Thanksgiving. It comes once a year and receives only six hours of preparation, much like the SOLs do here at TJ. Who decided we needed a holiday to celebrate a time when two groups of people didn't kill each other? There's a reason we don't celebrate it when someone does the bare minimum to not fail. If that were the case, my freshman year IBET paper would be a national treasure.
"Write about how Starbucks is already issuing red holiday cups!" was requested of me. You want a Thanksgiving cup with a turkey on it? Turkeys are the Danny Devito of birds. They're so bad at self-defense they can't survive without the president granting them legal immunity. And you advocate for them?
No, Christmas cups make more sense since you should always have a symbol of capitalist greed staring at you with every sip. This somehow justifies the fact that you just spent five dollars on ground beans soaked in water. People are just mad because nobody trusts teenagers drinking out of red cups any time of the year.
And if we're in the holiday spirit of forgetting about holidays, why not forget about New Year's, too? The last thing you need is a constant reminder that the "resolution" you made last January failed within a month. There's nothing as festive as minor psychological trauma. The trick to never disappointing yourself is never setting expectations in the first place.
What about Valentine's Day? Please. If your relationship needs a special day for validation, you're weak. And if you need that big of an excuse to eat chocolate, you're even weaker. St. Patrick's? Nobody's Irish for 24 hours. Presidents' Day? It's not even George Washington's birthday any more. Easter's too dangerous if we let our children eat candy from a grown man in a rented bunny suit. Cinco de Mayo? Come up with a name that isn't literally just the date and then we'll talk.
And if we'd like to talk about useless, we can't forget Columbus Day, but if I have to celebrate the systematic extermination of an entire continent's worth of people to get a day off from school, then dang it, I will.
And Halloween can stay too because any celebration of sugar I am 100 percent okay with.
Where are we in the year? Back to November? My point. Keep the stinkin' red cups. They make sense. And happy holidays!