Volleyball quarterfinals bring Jefferson one step closer to success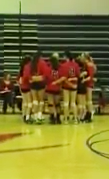 The Jefferson Varsity Volleyball Team hit a few "bumps" while facing the J.E.B. Stuart Raiders in the quarterfinals of the Capitol Conference Volleyball Tournament on Nov. 2. However, while the Jefferson Colonials lost the first set to the Raiders, they went on to win the next three sets, with a final score of 1-3 for the Colonials.
"I think it went exactly how I wanted it to," Coach Helen Alexander said. "I don't think it was necessarily what I expected, but the girls did exactly what we've been working to all season long. We've been talking to the team since the beginning about battling through failures, working through problems, and learning how to fix mistakes right away instead of dwelling on it."
Before the game, junior Kiersten Paul, a member of the Jefferson Varsity Volleyball team, felt eager to play Stuart for the second time in a week after having lost to them the first time on Oct. 28.
"[Last week], if we had played Stuart at [the level we did when we went against George C. Marshall HS], we definitely would have been able to win, so the fact that they beat us less than a week ago is just making us more ready to go and beat them again," Paul said before their Monday game. "I do want to go really far this year, because if we win on Monday, we get to play again on Wednesday and Thursday."
However, even though Paul was optimistic about the team's performance against Stuart, senior Wendy Wang, another member of the varsity team, was initially unsure about how the team would do.
"I think we can win, just because that one set [that we won in our last game against J.E.B. Stuart] showed that we had potential," Wang said before the game. "Our team's mood can be inconsistent. I think we really need to just bolster each other tonight and have that hyped up mood consistent throughout all five or however many matches we play. So I think we can win. Will we win? I have no idea. I hope we go far."
The team was able to keep a "hyped up mood" as they were able to come out of the game on top of J.E.B. Stuart. Though the first set ended with a win for the Raiders, things seemed to pick up for the Colonials after that. In the middle of the second set, the Raiders and the Colonials were tied 12-12. One team would score a point, but the other team would immediately catch back up. As the game went on, the two teams were tied yet again at 24-24. Finally, the Colonials scored another two points against the Raiders, and were able end the second set with a win.
"During the game, all I could think about was 'We can't let up," Wang said. "'Not for a second. We have the lead, so we need to grab hold and run with it.' Throughout our season this year, our team has had so many close calls with the opponent that I've lost track. Our team did well last night, and I'm really proud of how we pulled together."
All of the sets ended with the teams' scores within five points of each other, with the final scores for each set (Stuart-Jefferson) being 25-20, 24-26, 23-25, and 23-25. Members on the varsity team say that one of Jefferson's strengths is their focus on strategy.
"We're really good at placing the ball in smart spots as compared to other teams," sophomore Amanda Hsu, member of the varsity team, said, "We're pretty good about getting the ball to the right people at the right time. We played smarter by not always swinging away even when the set wasn't perfect and also exploiting their weaknesses."
This focus on strategy was evident at the end of sets as the team won many points by thinking through where to hit the ball so it landed in empty spaces.
"We played so amazing as a team last night and looking back on it, I'm so proud of us and how we worked cohesively to win the game," Hsu said. "We worked well together and were more aggressive. It feels so good beating a team we previously lost to."
The varsity volleyball team will now be playing against Thomas Edison HS in the semifinals on Nov. 4, and Coach Alexander is optimistic for the upcoming game.
"[For the] semifinals on Wednesday, the biggest thing I would like to improve is just fixing some hitting and serving errors," Coach Alexander said. "We missed a bunch of serves so that's where we ended up behind a couple points in the middle of games, but if we can just fix those, then I think we'll be fine for the next game."