Pope Francis' visit to D.C generates traffic for Jefferson mentorship students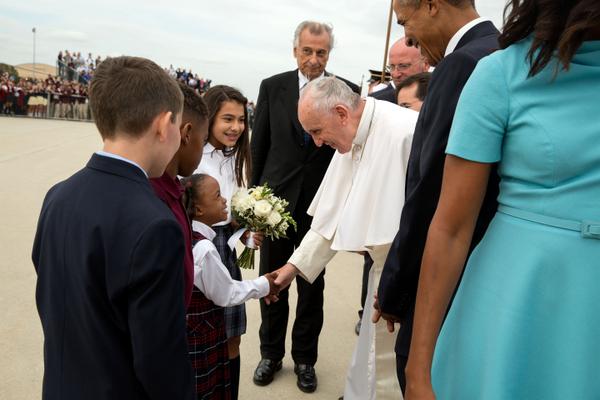 On Sept. 23, His Holiness Pope Francis was introduced to America, and the American citizens to the Pope.
"What a beautiful day the Lord has made. Holy Father, on behalf of Michelle [Obama] and myself, welcome to the White House," President Barack Obama said.
The Pope's White House Arrival Ceremony commenced at 9:32 a.m. with Obama's welcoming address, which highlighted the idea of this experience being the first in history, in several contexts, for the Pope. In addition, Obama praised His Holiness for his kindhearted spirit, which shines through in his social work.
"I look forward to these days of encounter and dialogue in which I hope to listen to and share many of the hopes and dreams of the American people," Pope Francis said.
The Pope focused on emphasizing issues related to combating environmental pollution as well as cooperating with others to restore greater justice and freedom. Following his speech, Pope Francis rode in a popemobile to visit crowds filled with both Catholic and non-Catholic supporters.
"I think one of the neatest parts of [the Pope's] visit is all the people who want to come and see him, if only for a few seconds," junior Stephanie Do said. "He is literally the most popular celebrity in the world and I can't think of anybody who would create the same reaction as he has."
Tickets for the Papal Parade along 15th Street, Constitution Avenue and 17th Street, Northwest were handed out on a first-come, first-served basis from 4:00 a.m. to 10:00 a.m. during the morning of the Pope's appearance, according to the Pope's published itinerary. This event altered the flow of traffic, as road closings occurred around the Apostolic Nunciature of the Holy See, the White House, and the U.S. Capitol, among others. Jefferson students participating in mentorship programs located in the District of Columbia were impacted by this temporary change.
"Because of the road closings, my mentor and I decided it'd be best if I stayed home and avoided the traffic," said senior Revu Pillai, studying neuroscience as part of mentorship in Georgetown University. "I read some primary articles and was working on background research for my project instead of going to work, so I could gain more background information on my topic."
Despite the setback, Pillai seems to respect the purpose behind the Pope's appearances. Additionally, when asked whether she would prefer to work further on her mentorship project or visit the Pope, Pillai says she would choose the latter.
"Mainly because I could work on my project any day, but visiting the Pope would be a once in a lifetime opportunity."