Class of 2019 kicks off homecoming planning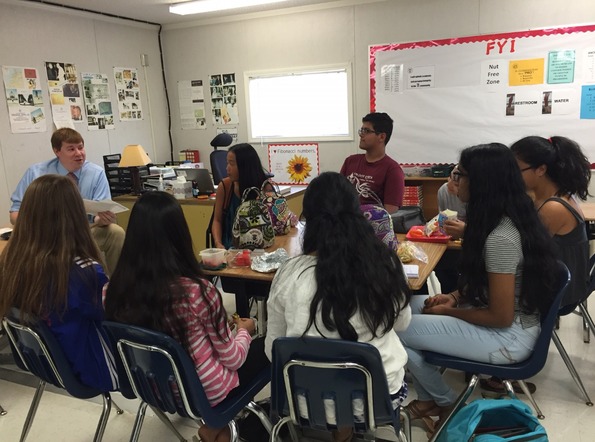 Sabria Kazmi and Aaraj Vij, members of the temporary freshman governing body (FroshComm), led the first official freshman homecoming planning meeting in the TJ orchestra room on Sept. 21.  During this meeting, freshmen began planning for certain aspects of TJ homecoming week, which will take place from Oct. 19-23.
"The main purpose of this meeting was to gather ideas for the float's design," freshman and FroshComm member Aaraj Vij, who co-led the meeting, said.  "[FroshComm] wants to make the most spirited float possible by incorporating all of the freshman class' ideas into it."
The homecoming theme for the Class of 2019 is "Journey Through History," and homecoming activities such as their float, banner, and t-shirt design will reflect this theme.  As this is 2019's first experience with TJ Homecoming Week, there are some added challenges to putting everything together.
"Experience makes a big difference," Vij said.  "It's [the Class of 2019's] first homecoming, and this plays a huge role in how organized and prepared we are."
Approximately 50 freshmen were in attendance at the meeting.  Before moving to homecoming planning, FroshComm members introduced themselves to the class and laid out the framework for homecoming week.
"We got to know [the Class of 2019], and the class got to know [FroshComm] a little better," freshman Shruti Chennamaraja, a member of FroshComm, said.  "So far, we've interacted mostly online, so the meeting was one of our first in-person introductions."
Members of FroshComm are working together to unite the Class of 2019 and ensure that the class completes major components of Homecoming Week on time.  This requires leadership and time-management skills to communicate with the entire freshman class and work on multiple projects simultaneously.
"Right now, our goal is to spread the word about homecoming week," Vij said.  "We assigned different Froshcomm members to different events, and those members work on completing their event by the deadline."
Though FroshComm's guidance is a pivotal factor in homecoming planning, it is participation from the freshman class that truly makes homecoming week an experience to remember.  Planning and completing a float, banner, and musical extravaganza can't be done alone, and these events require the enthusiasm and cooperation of an entire class. Homecoming week has the power to bring hundreds of students together under a common goal – showing their spirit and pride for their school and their class.  
"TJ is known for its competitive environment, but [homecoming week] brings us together and lets us take a break from all the academics to just have fun," freshman Isha Kunnath, who attended the meeting, said.