My Prospective European Travel Blog: Spain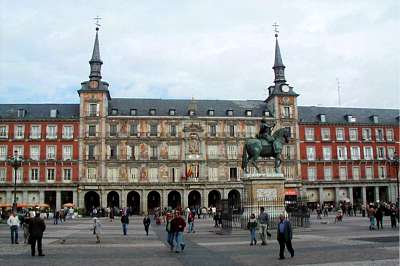 After having traveled in Italy (which I wrote about in my last blog), I'd continue my trip through Europe by visiting a country I'm a bit more familiar with. That way, I can take what I currently know about that country, and continue to expand upon it with new experiences and adventures. And for me, that country is Spain.
I've taken Spanish in school for the past three years, and through my classes, I've been able to learn so much about not only the language, but about Spanish culture and traditions. During my class projects and events, I've had the opportunity to taste food from Spain and learn about different Spanish countries and each of their unique characteristics, but I've never actually visited Spain or had truly authentic Spanish meals. Until now.
Temperatures in Spain can reach up to 90 degrees Fahrenheit, especially during months like July and August, so I would try my best to go to Spain as early in July as possible (so that it's not too hot once I get there). This also means that, along with the typical "summer-like" clothing that I would take with me (such as t-shirts, tanks, shorts, and slippers), I'll need items, like hats, sunglasses, and sunscreen, to help protect me against sunburns and other temperature-related harmful conditions.
Once in Spain, there is no limit to the landmarks and wonders I could visit. From the Palacio Real to"El Museo Nacional del Prado," Spain's culture lends itself to some amazing views and places. Being able to explore famous places such as the Aqueduct of Segovia and the Sagrada Familia will help me further my understanding of Spain and its past. There is also La Concha (one of the best beaches in Spain and Europe), La Plaza Mayor, and El Teide, which will make my trip to Spain even more exciting.
Restaurants like "El Botín" would continue to enhance my experience by providing authentic, wonderful Spanish cuisine (which, similar to cuisine in Italy, is also influenced by the Mediterranean). This includes empanadas, tortillas, gazpachos, tarta de santiago, and, what I'm most looking forward to, paella. And while I have tried some Spanish food at home, I believe that being able to eat food in a Spanish restaurant will be an unforgettable opportunity.
There are also some important events that take place in Spain during this time of year, and are things I surely would attend. The Running of the Bulls, for example, is an extremely valuable tradition in the country that occurs during the San Fermin Festival in July. Furthermore, the Night of San Juan festival takes place in mid-July, and is one of the events I actually learned about in school, so it's something I would love to see in person.
Overall, Spain is a country full of history, life, and astounding culture, and is where I would go on my next stop in my prospective trip to Europe!