Grant money offers more spaces for the Middle School Technology Institute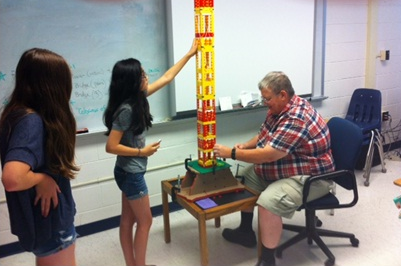 Jefferson's Middle School Technology Institute (MSTI), which started around 15 years ago and is currently run by Lab Technology Teacher Craig Lewis, is opening it's doors once again this summer. The MSTI was created to allow rising eighth and ninth grade students explore their interests in science and technology, through week-long programs that will start July 13 and end Aug. 7.
"TJ offers a variety of courses and labs in the STEM field, allowing students to experience the many aspects of STEM," rising sophomore Supriya Savaram said. "The middle school technology institute provides a similar program where students are able to discover their passions in the STEM field at a younger age, which is something I really like."
Registration for the programs offered by the MSTI this summer costs $200 per week, along with another $55 for transportation. However, this year, companies, such as Northrop Grumman and INCOSE, and grants, like the Jack Kent Cooke Foundation Grant, have provided over 200 scholarships for students from low-income families and/or underrepresented minority groups to attend the MSTI's programs for free, exposing them to an environment similar to Jefferson's that may entice more students from a greater variety of backgrounds and cultures to apply to the school.
"The greatest value of these scholarships is providing an exposure to TJ that a lot of students may not have otherwise because they can't afford it or they don't naturally see TJ as a place where they would learn," Jefferson school principal Evan Glazer said. "And from my seat, as the principal, I want to change that. I want students from every kind of background, in every kind of race or ethnicity, to recognize that if they're interested in STEM, they're motivated to learn and take on a challenging learning environment, then I want them to explore TJ as a viable option. I believe the institute provides a taste of the learning experience at TJ that hopefully will motivate them to want to apply to come here."
The MSTI offers many courses such as "Fun with Electronics," where students will be able to create their own robots, "Infectious Biological Outbreaks," which focuses around epidemiology and public health, and "Got an App for That?", in which students will learn how to develop their own Android apps. And now, students who would otherwise not have the opportunity to participate in such activities will have the chance to do so.
"We want to run the middle school institute to provide middle schoolers a flavor of what TJ is like," Dr. Glazer said. "It is an extension program where students have a one-week experience that is project-based and inquiry-based so that they can explore science and technology in creative or problem-solving ways."
Registration for the program closed in May, so teachers and faculty must now prepare for their courses. And just like every other year, the students are looking forward to what they'll be able to learn and explore.
"The entire experience was so much fun," rising sophomore Nitya Agrawal, who took part in the MSTI for two years, said. "I had the chance to make friends and meet new people from other schools who I still talk to today. The teachers taught the class in an engaging way in which we would also understand the material. I loved spending my summer in the program."