TJ Partnership Fund recognizes Jefferson supporters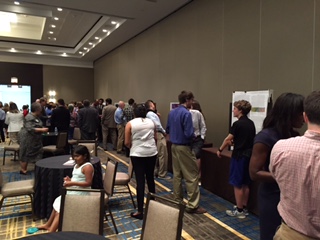 On Thursday, June 11, the TJ Partnership Fund held their annual awards ceremony, where they recognized the two recipients of the "Tommy Award," which is given to individuals who contribute significantly to the success of the Jefferson community. The two people honored were Teresa Carlson, the Vice President of Amazon Web Services Worldwide Public Sector, and Vern Williams, a math teacher at Longfellow Middle School.
The two honorees were selected for their devotion to promoting science, technology, engineering and math (STEM) education, especially in relation to Jefferson.
"One of the key elements for the Tommy Awards is being able to emphasize the importance of computer science and STEM technologies and how it's going to impact careers, not just next-generation careers," Carlson said.
Before the awards were presented, attendees were given the opportunity to look at projects representing each senior research lab and ask questions of the seniors who developed them.
"This banquet is very important because we want to celebrate how our partners have contributed to the success of the school," Principal Evan Glazer said. "Notably, through their giving and their relationships and mentoring and developing projects, our students are able to have opportunities in doing work they couldn't anywhere else."
Senior Pooja Chandrashekar was the student keynote, and she spoke about her experiences at Jefferson and activities and programs she was involved in.
"They asked me to speak about how TJ has impacted my experiences and passions. I loved my TJ experience, so I was thinking, 'This is great!'" Chandrashekar said. "I wanted to talk about how amazing TJ was for me."