'Years & Years' is on track to stardom with newest release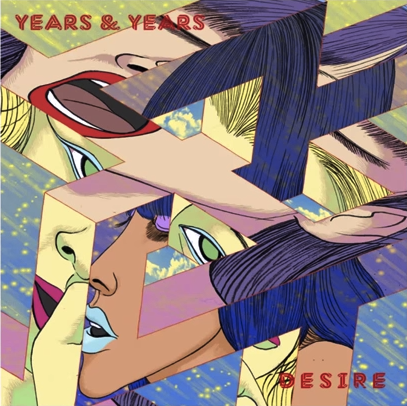 Years & Years will be, without doubt, the one of the next top pop artists in the United States.
Formed in 2010, the band of three consists of instrumentalists Mikey Goldsworthy and Emre Turkmen and frontman Olly Alexander. However, Years & Years isn't just any ordinary synth-pop group. Apart, each artist is merely ordinary. Put them together- that's where the magic happens.
In about 20 seconds into the first song of the group's most recent Y&Y EP, I was hooked. All four tracks on the album consistently deliver agile synthetic rhythms from Goldsworthy and Turkmen paired harmoniously with purposeful vocals and meaningful lyrics from Alexander. The third track "King," and also one of the album's more popular songs in Great Britain, from where the group hails, has already garnered over 50 million plays on Spotify and 28 million views on Youtube after just a few months- proof that the band is quickly on the rise to stardom.
However, it was not the catchier and faster beats that initially drew me to the band. Alexander's more emotional and stripped back melody, "Memo," is what distinguishes him from other artists currently on the charts in both the United States and Great Britain. There is something so undeniably pure and incredibly real about both the lyrics and the emotion that Alexander puts into the track, that it nearly brought tears to many of its listeners. The group performed the ballad for Google Play in November of 2014, drawing thousands of new fans purely by connection to Alexander alone.
Olly Alexander sings in "Memo" about an unfulfilled but also unconditional love. However, it is the vast difference between the song and any of the other pieces the group has composed thus far that distinguishes it as singular.
Within days, I had found myself not only with complete playlist of Years & Years' works but also with an extensive list of Google searches regarding how I could see the band perform live, as well as interviews with Olly Alexander about his growing fame as the frontman to a band up and coming in the United Kingdom.
Many new Years & Years fans, like myself, do not know much about Alexander as a person outside of what they can gather from the passion in his lyrics. Seen as almost a "One Direction"-esque figure to 15-year-old fan girls in Great Britain, I was surprised to discover that Alexander is gay and writes lyrics about relationships with boyfriends. According to Alexander, he did not want his sexuality to determine his audience, and therefore prefers gender-ambiguous lyrics in a similar style to Sam Smith.
I do believe that Years & Years has the potential to become one of the top-selling artists on America's Top 40 in the near future, particularly with the recent May 11 release of the group's latest song off the album in progress, "Shine." The full album, "Communion," will be released to the public on June 22. I excitedly await that day, and in the meantime will have "Y&Y" EP on repeat.