Jefferson community recognized Day of Silence for LGBT+ students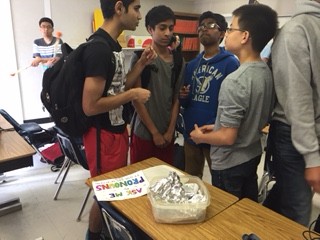 On Friday, May 1, Jefferson's Gay Straight Alliance (GSA) celebrated its Day of Silence. Members of Jefferson's lesbian, gay, bisexual, transgender and queer (LGBT+) community along with allies remained silent throughout the school day until the official Break the Silence party during eighth period.
The Break the Silence Party, held during both A and B blocks, featured festive treats for participants as well as a forum for discussion between club members.
"Day of Silence is a way for us as the LGBT community at TJ to show our fellow students, our teachers and our administrators that there is an LGBT community here at TJ and we are supportive and open to all of our students and we're trying to create a safe environment for them, both academically and socially," GSA president senior Andy Donate-Perez said. "It's kind of a not-so-gentle reminder to our teachers that we exist and it's necessary."
The goal of Day of Silence is to bring awareness to the Jefferson LGBT+ community and remind Jefferson students, parents and administrators that the group is open to students struggling with their sexuality and gender identity, in addition to protesting bullying. Although the celebration is normally held in conjunction with the national Day of Silence, the latter was held on a teacher workday this year, so Jefferson's GSA held their own.
"There are a lot of people who can't talk about their sexuality and their gender identity openly and there are many people can be oppressed by society, like their gender and race are examples but those tend to much more visible but with LGBT issues its much more invisible and it's important for us to honor those who can't speak out or can't really express themselves openly without being harasses or bullied or subject to violence," senior Didi Park.
Advanced Placement (AP) Statistics teacher Robert Ero, who sponsors the club, feels that Day of Silence is important for raising awareness that the LGBT+ community faces.
"I didn't even know there was a GSA until I found out there was a day of silence," Ero said. "So for me, it's important that everyone at this school understands there are students with different backgrounds and understandings and I think it's good for us to recognize that they're here. I was in the military and my best friend was gay and didn't tell anyone for three years and then took his own life. So I've kind of dedicated myself since then to help kids, people, adults to feel safe being whoever they want to be."