2018 Class Council prepares for Freshmen Lock-Up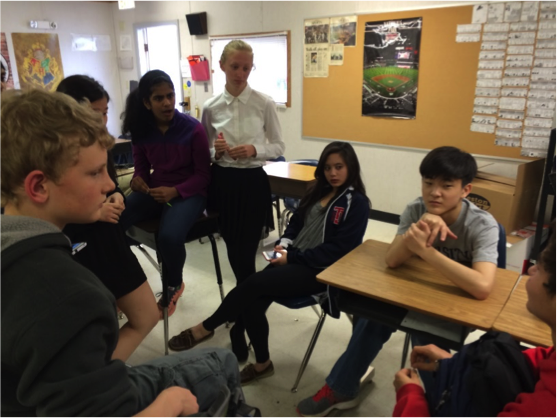 Every year, one of the most anticipated freshmen fundraisers, now called Freshmen Lock-Up, rakes in a few thousand dollars for senior year. Lock-Up acts as an immense bonding experience for the entire freshman class, with students hanging out from 7:00pm until 6:00am. Before construction began at Jefferson, freshmen were locked in the on a Friday night all the way until Saturday morning, and would stay up all night with fun activities and movies.
But for the past few years, due to construction, freshmen held the event outdoors at Camp Highroad, with rope climbing obstacles and other entertaining events. However, holding the event outdoors has had its issues, and now, on May 15 and 16, the freshman class will hold Lock-Up for the first time at the Audrey Moore RECenter in Wakefield Park.
"We really liked the idea of a traditional Lock-In, which before construction was always done at TJ," freshman Nick Begotka, president of 2018 class council, said. "We felt that with Lock-In at Camp HighRoad, the freshman class wouldn't be able to choose what activities they wanted to do. Everyone would be set to do, say, some obstacle course, and we felt that we'd like a more traditional Lock-In with more freedom for the freshman class."
The freshman Class Council held a meeting before spring break to announce to all freshmen what would be going on during Lock-Up, along with passing out a packet they would need to fill out before being able to attend the fundraiser. Activities mentioned during the meeting included a swimming pool, a talent show, movies, a video game room and even a possible dance. With admission being $50, the 2018 Class Council wants the event to be a memorable experience for all.
"It's supposed to be something fun that we hope the freshmen get to spend time together and bond," math teacher Michael Auerbach, one of the class sponsors, said. "It really is a great bonding opportunity for freshmen to be able to spend the night together and have a lot of fun."
While students will not be able to leave the campus, attending freshmen will have full access to all rooms and facilities available in the Audrey Moore RECenter building. Parent chaperones will also be in areas throughout the building, only staying for certain shifts until the next chaperone can take over. In addition, for the event, students, based on Integrated Biology, English and Technology (IBET) rotations, will need to bring in a certain food item or snack, though it is optional to bring in games for everyone to play.
"Lock-Up is a fundraising event for 2018 so we don't have food in our budget," freshman Victoria Chuah, Class of 2018 senator, said. "We thought it would be best if the IBETs helped with bringing in food and we hope the whole class is understanding of this and won't mind pitching in."
The freshman Class Council is putting in much preparation and effort into making sure this event continues to meet and surpass its high standards. Most, if not all, of their Wednesday and Friday A block meetings focus around aspects of Lock-Up, and what they need to get done. But nonetheless, many people say they are looking forward to Lock-Up, and hope it will be a worthwhile experience.
"I'm most looking forward to just staying up," freshman Lilly Ko said. "It's fun with people you know."