'The Duff' successfully blends humor with social reality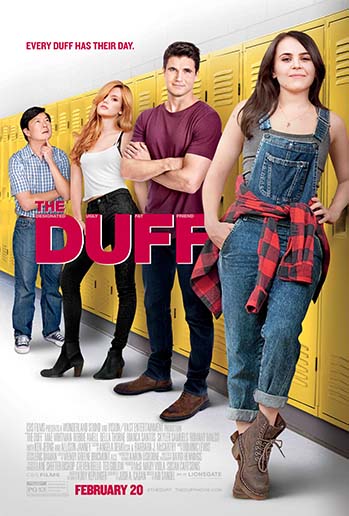 "You either know one, you have one… or you are one."
On Feb. 20, 2015, the film adaptation of the book 'The Duff' by Kody Keplinger released in theaters everywhere.  This movie adds a new label to the list of high school stereotypes – the DUFF (Designated Ugly Fat Friend).
A DUFF doesn't have to be fat or ugly—he or she plays the role of the more approachable person in a social group that helps other students communicate with his or her more popular and attractive counterparts.  The label refers to the "third wheel" in a group of friends who stands apart from the group in some way – making him or her less "dateable" or accepted in society.
The movie tells the story of Bianca Piper (Mae Whitman), a high school senior who realizes she's been cast as the DUFF to her other two best friends.  Desperate to shed her label, she enlists the help of her neighbor Wesley (Robbie Amell), captain of the football team, in un-DUFF-ing herself.  What ensues is a hilarious, thought-provoking film that ultimately conveys the message that every student is more than just a label.
As the movie develops, Bianca goes through the steps of un-DUFF-ing that are laid out by Wesley. Together, they take a trip to the mall where she makes earnest but futile attempts at talking to guys and tries on a variety of new clothes to swap with her overalls and boots. Eventually, Bianca makes larger steps to crack her shell and reveal her inner self.
As Bianca attempts to step out of the shadow of her two friends, Madison (Bella Thorne), the main antagonist of the movie, relentlessly shoots her down in the hopes of breaking her away from Wesley, Madison's ex. Madison initially bullies Bianca by sharing a humiliating video of her with the entire school.
With this plot, the film highlights the issue of cyberbullying, which is prevalent in schools across the country today. Over time, Bianca overcomes her embarrassment with the help of her friends and mother, realizing that she's only as awesome as she thinks she can be.
Eventually, Bianca lands a date and dresses up in her fanciest dress, almost completely burying her old look. She visits Wesley before her date and he tells her although she looks beautiful, she doesn't look like herself.
Although Bianca was able to almost overcome her stereotype, she also lost important parts of who she was in the process. At the end, she stands up to Madison, reunites with her best friends, and finally accepts that her label will never define her—she will define herself.
'The Duff' was a comical yet inspiring journey that perfectly blended humor with a clear message. There is a DUFF in every friend group, no matter what the stereotype—but when it all comes down to it, we are all DUFFs in some way or to some people.  It's more important to care about self-definition and less about a four letter acronym.