Should Jefferson have its own snow system?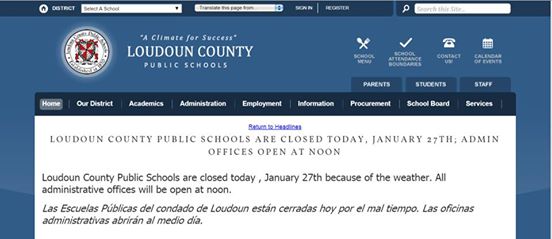 With students from all over Northern Virginia, including Loudoun, Prince William and Arlington counties attending Jefferson, determining snow days has constantly been a tricky task. Already complicated commutes to Jefferson become even more intricate if one of Fairfax's neighboring school systems close. Loudoun County Public Schools (LCPS), especially, has been making several decisions about school cancellations that went against those made by Fairfax County Public Schools (FCPS).
The days when Loudoun County announces a cancellation, Jefferson students from LCPS turn to social media outlets and complain about setting up carpools and express their disappointment over Fairfax county's normal school day schedule. When their friends are staying home, drinking hot cocoa and relaxing, Jefferson students in Loudoun trek out into the snow, ice and freezing conditions using private vehicles, not county buses, to go to school.
Or worse, the students cannot even get to school because the road conditions in Loudoun are so dangerous.
When surrounding counties announce a two hour delay, such as when Prince William county did on Jan. 22, county buses, including those traveling to Jefferson, arrive two hours after the usual time. Subsequently, students are forced to choose between arranging their own transportation or riding the bus, in which they would miss valuable learning or testing time.
In addition, on Monday, Jefferson students residing in Loudoun county were dismissed early from school after sixth period due to worsening weather conditions. Fortunately, the sixth period exams had already been taken, but students who needed to take a make-up exam during eighth period missed the opportunity. Furthermore, missing class time during seventh period may also act as a major setback for the students.
Due to the inconsistent decisions about school closings made by Fairfax and its adjacent counties, Jefferson, which consists of students from a variety of counties, should enforce its own rules for dealing with inclement weather schedules. Students should not endure dangerous and treacherous road conditions to attend school, and their safety should not be jeopardized.