Into the Woods debuts in theaters everywhere on Christmas day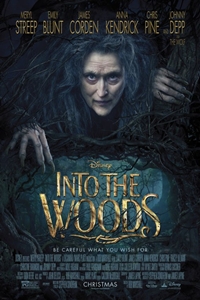 "Into the woods and down the dell, the path is straight, I know it well… Into the woods and who can tell what's waiting on the journey?"
These lyrics will soon explode onto the big screen with the release of a movie adaptation of "Into the Woods," on Dec. 25.
"Into the Woods" features familiar fairy tale characters such as Cinderella, Little Red Riding Hood, and Rapunzel, as they each seek to have their own "wish" granted.  Adventures ensue as each character pursues his or her own wish and lead to twists and turns, all occurring within the mysterious woods that are characteristic of any bedtime story.  This timeless tale will be brought to life with a myriad of sights, sounds, and colors on Christmas day.
"I love the costumes and lighting they use because it adds to the fantastical effect," sophomore Swati Srivastava said.
The story is tailored to appeal to everyone: those with a taste for adventure can delight in the tale of Jack and the Beanstalk, those with a love for princesses can identify with Cinderella's story and even those with no particular interest in any of the fairytales can enjoy the story of the baker and his wife.
Interestingly, "Into the Woods" began as a musical on Broadway, complete with a host of unforgettable songs that complement the twist on the traditional bedtime story.
"Usually, movies change up musicals, but I think this one is going to stay almost the same.  Either way, it's a big movie with amazing actors," freshman Anyesha Majumdar said.
Regardless, both movie and musical lovers can identify one aspect of the movie they are excited to see: the villain.
"Meryl Streep, who plays the witch, looks really good in the trailers," freshman Sai Chodavarapu said.
Movie or musical, Jefferson is eager to embrace the timeless "Into the Woods."
"There are a lot of fairytale characters, and I am looking forward to seeing how the different stories all come together on the big screen," freshman Sai Chodavarapu said.