Jefferson students react to Girls Scouts Cookie Finder App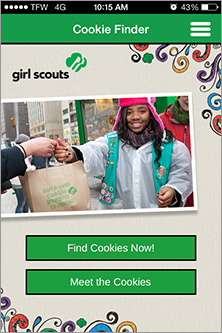 "AHH! ARE YOU SERIOUS?"
Students screamed as their eyes widened. This reaction was caused by the introduction of an exciting new mobile application.
The newly released Girl Scouts Cookie Finder Mobile app is a free way to access selling locations, timings and contact information of local cookie-selling sites. It features a menu where viewers can view cookie types and flavor listings. Viewers can also bookmark cookie sale dates and vote on their favorite cookies. Currently, the app is accessible on iPhones and Androids, and claims to cover every zip code in the United States and Puerto Rico.
In particular, Jefferson students are excited with these new developments.
"It's going to be more efficient than door-to-door selling and selling outside supermarkets," sophomore Shivam Kollur said.
On the other hand, others were disappointed in the loss of the Girl Scout tradition.
Personally, I've always loved the traditional aspect of Girl Scout cookie sales, like the intimacy of it," junior Cheryl Mensah said, "If Girl Scouts cookies are being sold online they aren't even Girl Scout cookies anymore. They're just cookies."
The App Store also has several mixed reviews with rates ranging from one star to five stars. A five star review stated that, "the sheer fact that this app exists has brought an abundance of happiness to my once ordinary life." On the other hand, a one star review said, "We just hit 2 locations that were supposed to be selling GS cookies and neither was. Thanks for the utter waste of time, gas, and patience." In addition, reviews about glitches and malfunctions were scattered throughout the page.
Overall, the Girl Scouts Cookies Mobile App has received reactions on either ends of the spectrum.
"This app will definitely revitalize the tradition of selling Girl Scouts cookies and tailor it towards the technological times of today," junior Sahana Ramani said. "Girl Scout Cookies are always in high demand and the app will help meet the needs of the consumers with its user-friendly interface."