Charli XCX releases new anthem-filled album "Sucker" after delay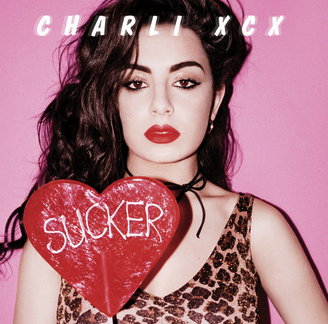 After the release of the film score to John Green's hit novel, "The Fault In Our Stars," one song in particular, Charli XCX's "Boom Clap," seemed to resonate with audiences worldwide. Lifting her to a status of stardom, "Boom Clap" reached the eighth spot on Billboard's Top 100, surpassing even her recent work in film score for the final piece of the Hunger Games trilogy titled "Kingdom."
However, since "Boom Clap," Charli XCX, has created a new masterpiece. Her new album, titled "Sucker," the singer-songwriter from the United Kingdom has created a list of 13 new anthems for listeners worldwide to devour. Released on Dec. 16, the album faced delays as explained by XCX on her Twitter page. Each song, heavily rooted in pop with a punk influence, provides listeners with an overwhelming sense of XCX's independence as a woman and fearlessness when it comes to producing music.
Much like the latest musical stylings from Taylor Swift or Iggy Azalea, Charli XCX uses her music to convey her beliefs on power of the individual in the face of judgment from listeners and society as a whole. These songs seem not merely there to suit the ear of the listener, but to truly suit the desires and happiness of the musician herself, which is rare in music today.
Charli XCX essentially makes this point in her power-packed song, "Body of My Own," where she belts, "Got my darkness, I'm into myself, don't need you." This act of distancing herself from the direction that the media wants her to take in her music I find to be more powerful than the song itself. A similar message has also been sent directly to the media this year by Swift when she rejects the stereotype that society has given her in her hit, "Blank Space."
Although Charli XCX's album sends a powerful message to society about standing up for your own character, some of her songs on the album "Sucker" fell flat as they could easily be passed over as desire to cause a scene rather than make a statement. Songs like "Break the Rules," and "Sucker," gave off more of an angry tone than a defiant one, as Charli XCX seemed to just whine with the lyrics, "I don't wanna go to school, I just wanna break the rules," and "you said you wanna bang, well f*** you, sucker!"
Regardless of her seemingly angry attitude in a lot of the pieces off of "Sucker," Charli XCX has had remarkable success with her latest releases. In fact, "Break the Rules" has reached nearly 12 million listens on Spotify, sitting at the artist's most popular songs next to "Boom Clap." Her songs send a powerful message, whether it be one of disapproval towards society or independence and self-reliance, and it has definitely got people talking.