"The Book of Unknown Americans" is an eloquent, heartbreaking gem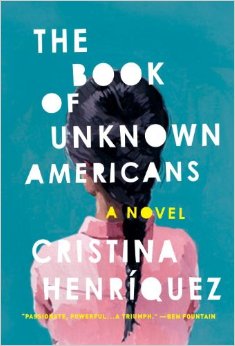 Ellen Kan, Print Editor-in-Chief
August 21, 2014
"The Book of Unknown Americans" tells the story of Arturo and Alma Rivera, a loving couple whose happiness in their Mexican homeland is shattered when a tragic accident befalls their only daughter. Desperate to find a place with the resources for Maribel to heal, the Riveras leave behind everything they have ever known and move to the United States.
The Riveras' story collides with that of the Toros in the innocuous, ordinary city of Newark, Del. The Toros face their own internal and external pressures, but the Panamanians welcome their Mexican neighbors with open arms. The Toros' younger son Mayor also falls head over heels for Maribel.
Newark serves as a microcosm for all of the United States, a country shaped by immigrants seeking the mercurial and possibly proverbial American Dream. The entire apartment complex in which the Riveras and Toros reside is bursting with colorful characters from all over South and Central America.
While the majority of the other residents are only accessory characters, their brief backstories leave a lasting impression and lend insight into the tenuous trust that forms between Mayor, Maribel and their families.
I was, however, slightly disappointed that every character had essentially the same voice. I think the novel could have been more powerful if Henriquez had emphasized the differences between characters, especially because they certainly have diverse personalities. For many of the changes in point of view, I couldn't be sure who was narrating until I glanced at the name at the top of the passage.
The language in Cristina Henriquez's bestseller is simple, but it still manages to command the reader's attention. While I enjoy reading a good romance, I appreciate how Henriquez did not make Mayor and Maribel's love story the focal point of the entire novel. Their interactions, which progress from hesitant to heartwarmingly tender, add yet another complication to the conflicts that the other characters are ensnarled in.
Another aspect of "The Book of Unknown Americans" that I love is the way Henriquez deals with the allocation of blame. Suppressed secrets cause things to spiral downwards, until the book reaches a heartrending ending that leaves me speechless. As each character reflects on how everything played out, we witness them play the remorseful "what-if" game with every decision.
The challenges that each character and family face – losing jobs, missing home, feeling pressure to follow in the footsteps of older siblings – are all intensely relatable, and they will be for many years to come.
Many of these troubles resonate with our society today, one in which the border crisis has risen to the forefront of politics. "The Book of Unknown Americans" is truly both a timely and timeless read, a saddening but ultimately uplifting story that I would recommend to any open-minded reader.