Jefferson remembers Korean ferry tragedy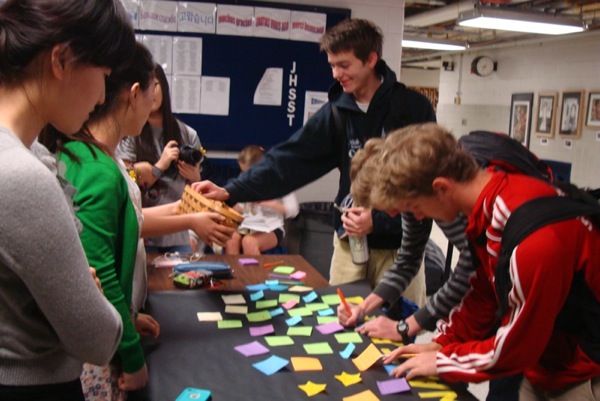 Colorful post-its gradually adorned the black poster paper emblazoned with the saying, "We'll wait for U." Messages of hope, love and remembrance covered the paper as the Jefferson community commemorated the recent South Korean ferry tragedy on April 24.
With over 180 passengers dead and 100 missing, the South Korean ferry sank on April 16 while transporting over 470 passengers, who included more than 300 high school students of Danwon High School, located in Ansan, South Korea, who were on their way to a field trip to Jeju Island.
"I am at a loss of words," junior Sara Kim said. "Every time I see an article or a photo related to the tragedy, my eyes tear up, and I feel terrible."
In an effort to commemorate the tragedy, Kim asked other Jefferson students to collaborate with her on a project to remember the deceased passengers. Juniors Joo Kang, Jenny Kim, Susie Lee and Michelle Namkung and sophomore Jaehyun Jeon joined her to realize the project.
"Sara actually contacted me and asked me to help her out in the commemoration of the ferry victims," junior Jenny Kim said. "Losing hundreds of lives from the sinking felt like we were losing a part of our family."
Sara Kim's group prepared a blank poster paper for students to write hopeful messages on using post-it notes and distributed yellow and black ribbons for students to wear. With the yellow ribbon being a primary sign of commemoration for the tragedy in South Korea, Kim was able to continue the idea at Jefferson.
"I really wanted to send my condolences for this incident, and the best way for me to do so was write hopeful messages and join the yellow ribbon campaign," Sara Kim said.
With the country still in shock over the tragedy, Sara Kim hopes to send Jefferson's commemoration of the sinking by sharing the project with South Korea. After over a week since the sinking, she and her group has united the Jefferson students' hopes for a miracle, taking part in the global movement for remembering the tragedy.
"I hope the passengers know that we are all thinking of them, and that they will forever remain in our hearts so that an incident like this never happens ever again," Sara Kim said.