Mediocre record does not reflect the Lady Colonials' success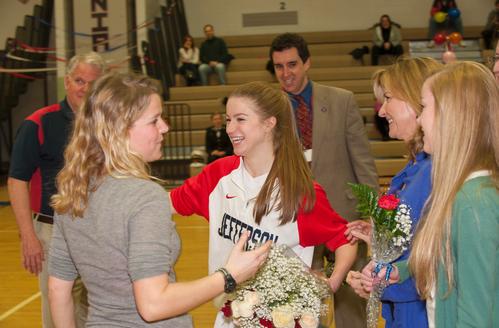 Despite suffering a disappointing loss in the first round of the Capital Conference tournament and bearing the weight of an average record, the Jefferson girls' varsity basketball team had a very above-average season.
The season came to a close in a very exciting fashion. Spurred on by the offensive prowess of seniors Mary Forburger and Care Shoaibi, the girls gave top-seeded Robert E. Lee High School a run for its money. However their comeback was stopped short, as the Lady Colonials lost 43-42.
With this season concluded, the focus shifts to next year.
"Losing the seniors will be tough for next year's team," Shoaibi said. "However, I think it gives a new group of players an opportunity to show what they can do."
The team's 9-14 season record may not sound spectacular. The team had a very competitive schedule with many close games that could have gone either way, such as the multiple matchups with the rival Marshall High School girls' basketball team. Nevertheless, the players were able to win the Marshall Statesmen Classic tournament, compete respectably in the Joe Cascio Falls Church tournament and play a great game in the first round of the Capitol Conference tournament.
"There were a few games here and there that I would love to have picked up, and I definitely wish we had gone further into the playoffs," Forburger said. "Still, it was a good season overall."
Perhaps the key to the Lady Colonials' success this year was the talent and leadership from the key upperclassmen players. Forburger and Shoaibi, along with senior Hunter Clark and juniors Julia Dunbar and Rebecca Clark-Callender, were key assets to the team that thrived off of their experience.
"They were definitely a fun team to watch, for many reasons," sophomore Deepak Jayachandran, an avid Lady Colonial fan, said.