Chess player profile: Wang reflects on past games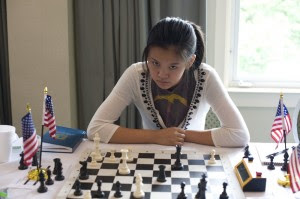 Most students can only dream of being part of international tournaments, but for sophomore Joie Wang it's a reality. Wang has travelled to foreign countries to compete against some of the world's top players in over 90 competitions. For Wang, chess is a challenge, a puzzle, an activity in which she can take the time to think about problems from varying perspectives. Above all, Wang regards it as a teaching skill for life.
The most recent competition in which she competed was the Virginia State Scholastic and College tournament in the K-12 division on March 15. By working alongside other members of her team, Jefferson was able to place first with a score of 19.0.
Wang's preparation technique for games such as these seems pretty simple. For her, the most important thing is brushing up on the basics. She prepares by going over openings, doing tactics, and playing tournaments or chess games. Wang also practices online through an Internet Chess Club as well as in local tournaments. The tournaments that are held locally often help her get into the mind-set of more heavily weighted competitions.
Locations at which Wang has competed:
Canada
Texas
Tennessee
Chicago
New York
Most memorable competitions in which Wang has participated:
All Girls Nationals Championship 2012: first place
North American Youth Chess Championship 2011: second place
All Girls Nationals Championship 2010: second place
Continental Class Championship: first place
Qualifier of World Youth Chess Championship
Background:
When Wang was five years old, the game of chess worked its way into her life. Her father had attended a book sale and selected a novel on chess that the duo would later read together. Then in elementary school, when Wang realized that there was a chess club, she eagerly joined and competed alongside her schoolmates. She then went on to compete in her first tournament when she was only eight years old. And this was just the beginning of Wang's now decade-long journey into the heart of one of the world's most highly regarded games.
On March 18, tjTODAY interviewed Wang about her interest in chess.
Q. What inspired you to pursue chess to greater degree when you were younger?
A. My dad has always been able to beat me at the game so I decided to start playing people around my age to find out how I compare to them. I have a pretty bad habit of being very competitive so whenever I lost a game to a person I was always wishing in the next tournament to beat them – this started my studies for the game when I was at a younger age.
Q. Do you have any specific strategies or moves that you like to use during games?
A. I have certain openings which are mostly gambits that I like to use to throw the opponent off their guard. Many times a player will play slowly and by the end they will win. However, I prefer to go straight for the attack and end the game quickly. There really is no favorite move of mine besides checkmating the other person; it depends on the position I am in. Several of my fondest games are where I have seen sacrifices that played out as me checkmating my opponent quickly.
Q. You travel a lot for competitions. What is your favorite part about competing outside of local locations?
A. After chess tournaments I am able to see and experience each place almost as a vacation. For instance, I know downtown Chicago pretty much as well as I know the roads here. The people I meet seem to become my friends for life, and it really is very enjoyable to know people from all over the world whom I can talk to and share part of their culture (especially their food).
Q. What do you like the most about chess? The least?
A. I personally find the process of chess, where any situation can happen and a player must try to think all of the possibilities of the future in order to win the game, very interesting and challenging at the same time. Another benefit of playing chess is being able to travel to places I would never have dreamed of visiting and making international friends. But, the downside is the amount of time that chess takes up, with some games lasting six hours and the time it takes to prepare for each tournament.
Q. What is it like to be a female chess player in a male-dominated field?
A. It certainly was a surprise when I first started with a 9: 1 boy to girl ratio. It felt quite weird when I first started being seen with so many boys but it soon became a normal habit. Everyone blends in and we all treat each other more as chess players instead of separating into different genders.
Q. How has chess been a positive addition to your life?
A. Chess has taught me several life lessons such as never giving up when a situation doesn't go as planned and to plan ahead in life. Not only has chess taught me crucial life lessons, but it has also let me travel all around the world and meet people who share the same passion as me.