Drama department begins spring musical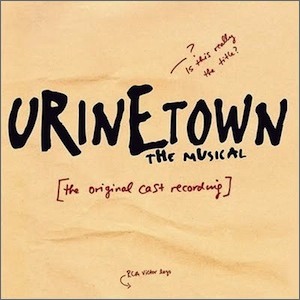 The Jefferson theater department (TJ Drama) will be putting on its first musical since 2009 this coming May. The musical will be Urinetown, a satirical comedy which received multiple Tony Award nominations and wins and parodies musicals such as Les Miserables and West Side Story, among others.
"More than anything, I'm so excited that we're putting on an open musical for the first time in a couple years," senior Alex Le Floch said. "Now, anyone can audition, and that really lightens the load on the average over-worked TJ student who wants to perform but can't find space to take Choir as a class.
Auditions for the musical were held on Feb. 19, with callbacks held on Feb. 21. The cast is comprised of 29 actors, many of them who are new to TJ Drama and have never performed in a Jefferson production before.
"I'm excited to be a part of such a fantastic cast," senior Will Ashe said. "I think the people involved are going to make this a fun production to both watch and perform."
The premise of Urinetown revolves around a dystopian town in which there is a water shortage. Due to this shortage, a company named Urine Good Company has decided to regulate water consumption, and people must now pay a fee to use the restroom. However, a rebellion soon occurs led by the poor people of the town, as they fight to gain free access to restroom privileges. The musical's unconventional plotline satirizes several Broadway musicals and the musical itself, but also satirizes the legal system, capitalism, politics and bureaucracy.
"Based on the plot and the title, I can already hear all of the bathroom jokes everyone is going to make," senior Liesl Jaeger said. "Even though that may be a little immature, I think that everyone can enjoy the show in their own way, whether it be by making pee jokes or snickering at the satire and musical theater references found in Urinetown."