Girls soccer hold important meeting about season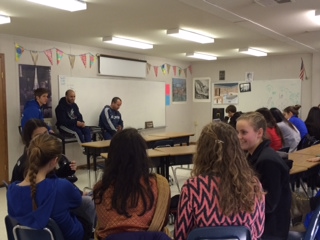 On Feb. 28, the returning and new players of the girls' soccer team gathered with varsity head coaches Othmane Benkhnallouk and Luis Gendive, and junior varsity coach John Ciampa for an important meeting during both eighth period blocks.
The meeting was held to discuss the tryouts that were held throughout the week before school and any concerns the players may have as well as what they can expect throughout the season in practices, games and other events. Coaches will announce which players will be on the varsity team next week.
"I thought it was good to let everyone know what the upcoming season will look like and what rules and guidelines to follow," junior Shani Cave said.
Excited for what the coming season will bring for their team, especially after the victories of the fall and winter sports this year, the returning players spoke animatedly to each other before the coaches began discussing the coming season. Recalling old memories of previous years on the team and voicing their own aspirations for the coming season, the team reconnected as they began to ready themselves for the spring season.
"I enjoyed reconnecting with my old teammates and speaking to them about what we all want to accomplish this season compared to last year," sophomore Priya Gupta said.
The first match of the spring season, against Falls Church High School, will be held on March. 18.
"I can't wait for the soccer games to begin this season so we can show other schools what Jefferson soccer is made of," Gupta said.