Department of Agriculture representative visits College and Career Center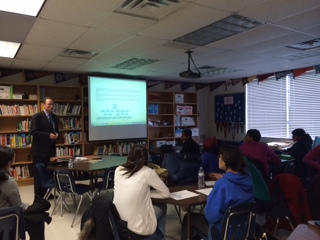 As summer internship application deadlines approach, many Jefferson students have been attending various meetings at the College and Career Center (CCC) to find the right fit for them this summer. On Feb. 12, a representative from the United States Department of Agriculture (USDA), came to the CCC and spoke to students about possibilities in science and research at the USDA this coming summer.
"I never have thought about pursuing a summer internship in agriculture, but I think this is a good opportunity not only for those who are interested in agriculture, but also for anyone interested in any similar field," junior Shirley Burt said.
Originally founded as the "People's Department" by President Abraham Lincoln in 1862, the USDA is the executive branch agency responsible for developing and executing federal policy on farming, agriculture, forestry and food.
The internship at the USDA would allow students to not only enjoy speakers and presenters on a variety of topics including cyber security and agricultural issues throughout the United States, but also to experience both research and hands-on work in the USDA's specialized high school student program.
"The mission of the USDA is to provide leadership in food, agriculture, natural resources and related issues based on sound public policy," Burt said. "This internship, as the representative said, would provide an insight into what it would be like to take part in the organization."
Many students who attended the information session held at the CCC in order to better see what this internship would provide for them and whether or not it was a match for them. A consensus of the students who attended seems to be that the experience would be well worth it.
"I was surprised that the USDA handled so many different programs," junior Teja Sathi said. "The representative mentioned that he worked to provide opportunities for disabled people to get proper nutrition services. I went to this information session mostly because I am interested in the environmental and natural resource work that the USDA does with information technology (IT) and engineering, and I have to say that the opportunity seems incredible and I will probably be applying."