Sochi Olympics opening ceremony amazes students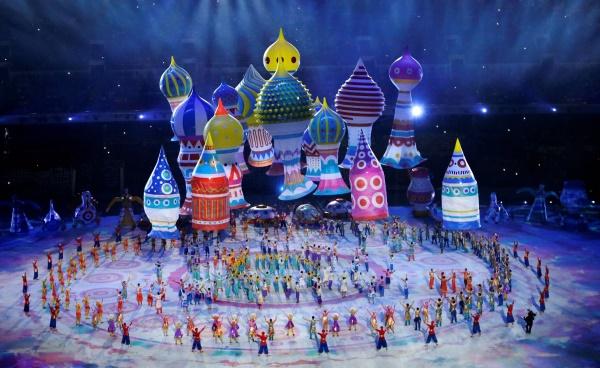 Starting at the symbolic time of 8:14 p.m. and ending at 12:14 a.m. on Feb. 7, the Sochi Winter Olympics opening ceremony allowed viewers to witness one of the most elaborate and vibrant Olympics openings.
The extravaganza that reached deep into the performance of classical music and ballet, crossed the sights of the world's largest geopolitical region and soared into outer space. It swept across millennia of history in a celebration encompassing Peter the Great's reign and the might of Soviet monumentalism, turning this Winter Olympics' opening ceremony into a memorable performance.
"It was highly captivating, breathtaking and in the case of the Russian police's cover of Daft Punk's 'Get Lucky,' amusing," freshman Anshu Sharma said. "It clearly showed how Russia wanted to world to view its past, present and future."
The 18-chapter opening ceremony lasted nearly four hours and provided a majestic spectacle that included glowing troika of horses made of light streaking across the snowbound sky, the renowned multicolor onion domes of St. Basil's Cathedral sweeping across the stage in the shape of a whale, and a variety of literary references to works of Tolstoy, Gogol and Nabokov.
"I loved the ideas behind the entire opening ceremony," sophomore Jordan Ganley said. "For example, when they wanted to demonstrate uniformity, they had their actors move in sync and wear the same outfits."
Though many Jefferson students seemed to favor specific parts of the opening ceremony, such as Team USA's entrance into the stadium or the dancers who created the Russian flag with lights, the overall consensus seems to be that the entire event, even with its incredibly embarrassing mistake with the Olympic rings, was an opening ceremony to remember.
"I enjoy watching opening ceremony every Olympics, but this year, the unique performance was made even more incredible through the details in every scene that brought the performance to life," junior Shirley Burt said. "This performance will truly be hard to beat in the next Olympics."