Envirothon participants attend sustainable agriculture workshop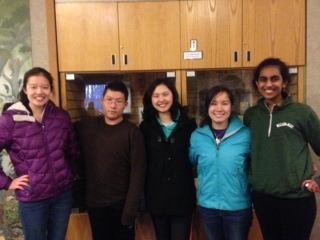 On Jan. 20, senior Emma Gee, junior Teja Sathi, sophomore Virginia Pan and freshman Yash Jain traveled to Great Falls, Va. to participate in an Envirothon workshop.
The North American Envirothon Competition is an annual competition that encourages high school students across the country to increase environmental awareness and address relevant issues. Held over the summer, the national competition is sponsored by the North American Envirothon, a nonprofit, environmental education organization.
The competition involves hands-on stations in which participants, who enter the competition in teams of five, demonstrate "their knowledge of environmental science and natural resource management," according to Envirothon's website. Although the national competition is not held until July, teams must begin preparing well in advance by winning local, regional and state competitions.
"Last year's Envirothon was the first one that TJ participated in," Sathi said. "Only the top two local teams move on, and we placed third last year. This year, we think we can definitely move on to the next round because we have experience."
Jefferson is fielding two teams this year; Gee, Sathi, Pan and Jain are part of these teams, although the members and alternates have yet to be designated. Team members will be tested in five different categories: soil and land use, aquatic ecology, forestry, wildlife and a current environmental issue, which will be sustainable agriculture for the 2014 Envirothon.
For the Jan. 20 workshop, students from local high schools visited Hidden Springs, a farm owned by a family, the Guerres, that practices sustainable farming. The students learned about various components of the farm, including the tractors, greenhouse, milking house, chickens and vegetable fields.
"I was really excited to see that the Guerres adopted so many sustainable practices in the running of their farm," Sathi said. "For example, vegetables that were destroyed by frost were used as animal feed. Mr. Guerre also made his own greenhouse and solar powered water heater for use on the farm."
The sustainable practices observed by the students will help them with the final challenge for the Envirothon competition, which challenges contestants to develop a plan for creating a sustainable agriculture operation. The date of the local competition has not been announced yet, but it will most likely be held in late March.
"I was very impressed with the fact that normal people with little prior agricultural experience could make a living through organic farming," Gee said. "Farming on a smaller scale allows for better quality and more care put into sustainability-increasing efforts. The workshop will give us a deeper perspective on the special topic beyond what we would gain from Internet searches or library visits."