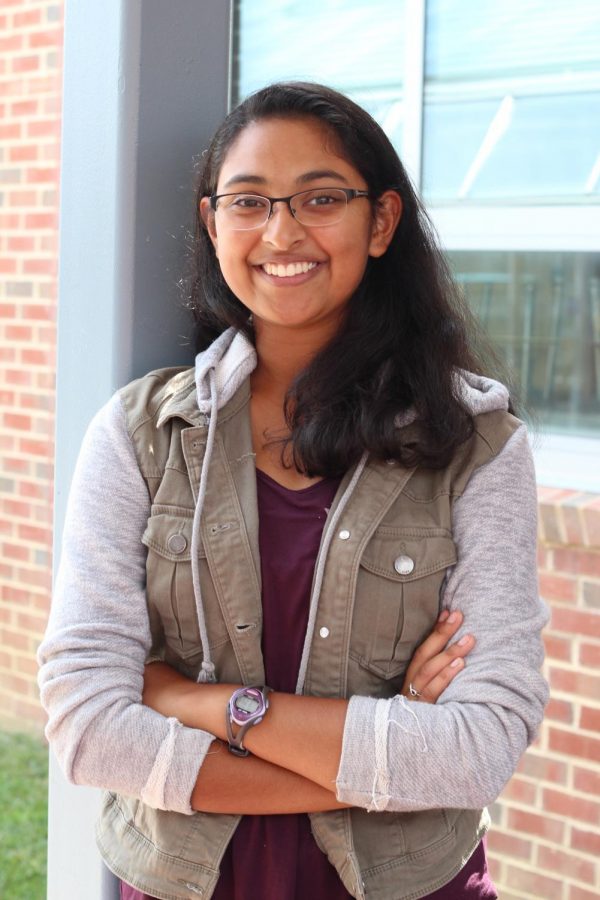 "Whoever invented A/C is getting a shrine on my wall," said this airconditioning-loving, food-fanatic, tennis-devoted writer.
Shruthi is a senior at Jefferson and has been a part of TJ Media for three years now. Shruthi's passion for writing has only become more intense through the years. She especially enjoys writing about teachers and their perspectives on certain topics.
"When you're on the other side, you have a student and their teacher, there's a separation there. But when you're interviewing them, as a person, you find out that teachers are actually really cool people," she says.
Once upon a time, Shruthi wished to be an FBI investigator, but now strives to go into the fields of medicine and computer science. She is a complete foodie and wouldn't be able to survive without her mom's alfredo broccoli pasta. In the end, Shruthi is just happy to have made space for Journalism in her schedule and to be an active part of tjTODAY.
Shruthi Nyshadham, Online Managing Editor
Mar 15, 2019

Aiming for Liftoff

(Story)

Feb 13, 2019

Into the Interdisciplinary

(Story)

Feb 13, 2019

Changing the Game

(Story)

Jan 09, 2019

Top 8 of 2018: News Highlights

(Story)

Jan 08, 2019

Top 8 of 2018: Legal Limelight

(Story)

Nov 30, 2018

The Rise of Instagram

(Story)

Oct 30, 2018
Oct 23, 2018

International Master Praveen Balakrishnan on pursuing his passion for chess

(Story)

Sep 29, 2018

Syslab Down: Behind the Screens

(Story)

Sep 22, 2018
Sep 13, 2018

The College Coding Complication

(Story)

Sep 07, 2018

Teaching beyond retirement

(Story)

Sep 05, 2018
Apr 20, 2018

Student artists express themselves through mural project

(Story)

Feb 14, 2018

New Frontiers in Science club helps disseminate computational science research

(Story)

Jan 12, 2018

Professional recruiter David Delaney presents resume workshop

(Story)

Jan 12, 2018

French department conducts online exchange program

(Story)

Nov 10, 2017

Smart strategizing leads to lively Diwali celebration

(Story)

Apr 07, 2017

Freshmen evicted from IBET lunch commons following trash complaints

(Story)

Feb 10, 2017

Wrestling Season Photo Gallery

(Story/Media)

Nov 22, 2016

Scrumptious Seven: Top Thanksgiving Activities

(Story)

Oct 29, 2016

Pump(kin)ed up for Halloween

(Story/Media)