From lemon juice to blood, Russell spins her magic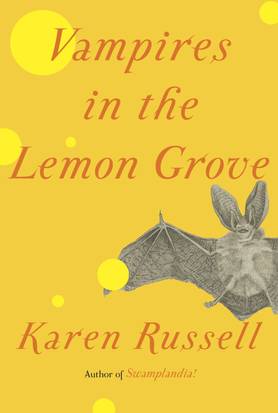 Vampires drink blood, not lemon juice. Humans can't transform into silkworms. A massage therapist doesn't have the ability to change the tattoo of a soldier suffering from post-traumatic stress disorder and erase his memory. But none of these paradoxes seem to matter in Karen Russell's new collection of short stories, "Vampires in the Lemon Grove."
Russell came to public notice in a big way with her first novel, "Swamplandia," which garnered multiple awards, including New York Times Best Book of the Year in 2011. A great choice for young adults as well as adult readers, the story stretches the reader's imagination while telling a poignant tale of a dysfunctional family in a forgotten theme park in Florida. "Vampires" consists of eight short stories, none with similar plots, or that even seem to takes place in the same universe.
Each of the storylines begins innocuously, with a few oddities, but nothing strange enough for the reader to break stride. However, all of these oddities are soon expanded into inhuman proportions.
Displaying proficiency, if not expertise, in topics ranging from rehabilitation therapy to made up spectator sports such as the Food Chain Games, Russell delves into each story's idiosyncrasies with an expansive style that virtually creates a world out of thin air.
What is most inconceivable about how Russell spins her stories is how even as a protagonist is creating a web of tendrils from her fingertips, the realism of the story is as strong as ever. Even as the reader has the ability to mentally scoff at her choice of storytelling tactics, the message she has written comes across strong.
These messages are no trite clichés, either. In stories that range from a barnyard full of ex-presidents to women transformed into an industry to a pair of love-struck vampires in search of their Eden, Russell asks potent questions about heaven, individual rights and the mortal problems that exist no matter what your lifespan is.
Despite the puzzling moment at the beginning of each short story when readers can't help but wonder how on earth this is going to transform into a story, they won't mock when they are done reading, Russell's writing quickly calls them to attention.
"Vampires in the Lemon Grove" sends its readers in all directions, but together, all eight stories cause readers to question their own world. They are well worth the time spent reading them.
(This article originally appeared in the May 17, 2013 paper.)