Forensics team to host Speechfest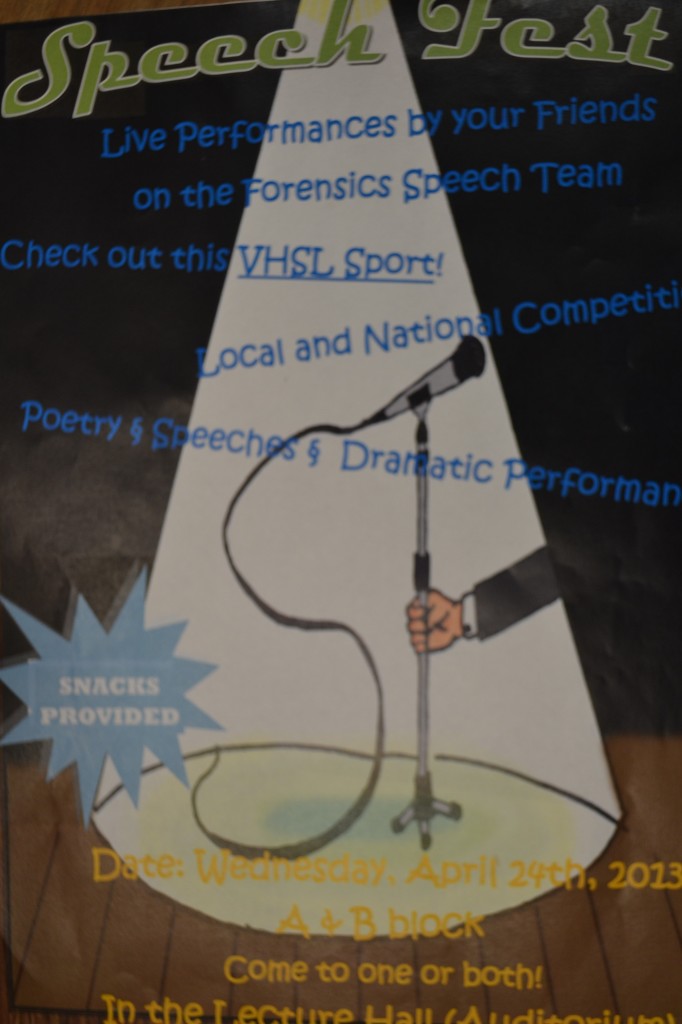 The Forensics team will be holding their first "Speechfest" on April 24 during eighth period. The session will feature live performances from members of the team.
The performances include an impromptu speech by senior Kyle Angelotti, original oratory from freshman Matthew Sun and dramatic interpretation by senior Katie Earl during A block.
During B block, freshman Cheryl Mensah will be performing humorous interpretation, junior Miranda Callahan will be reciting poetry, juniors Nita Takanti and Nidhi Gandhi will be partaking in a duo presentation, and junior Varun Jain will take on extemporaneous speaking, which entails a speech about a current events topic assigned on the spot.
Students can come either A or B Block or both, and snacks will be provided for those who attend.
Junior Nita Takanti came up with the idea for the Speechfest this year to introduce more people to what forensics is about. Though it is a VHSL sport and the team does participate in year-round competitions, Takanti feels many don't understand just what the forensics team does.
"In my freshman year, we had a thing like this, but it was pretty small. It was really fun to see other people performing," she said. "Speechfest will showcase what the forensics members have been doing all year."