Renovation costs shouldn't limit diversity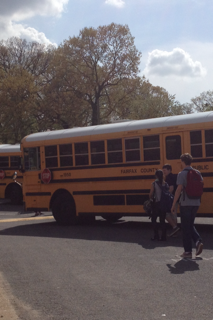 Jefferson's physical plant is going to nearly double in size by the end of the incipient renovation, but that comes with a $67.44 million price tag. Who's to pay the bill when more than 17 percent of our students come from outside Fairfax County and the county's residents are shouldering the entire burden through a bond bill?
Superintendent Jack Dale came up with a plan earlier this year.
Dale requested surrounding jurisdictions that send students to Jefferson to help share the capital cost of the renovation. Though many Fairfax officials view the sharing of renovation costs as a fair request, surrounding districts are concerned.
The proposal assigns a per capita surcharge to help fund the renovation between the jurisdictions that send students to Jefferson, fairly distributing some of the financial burden between FCPS and the surrounding counties.
We agree that FCPS shouldn't have to pay the renovation costs in full. It is, after all, a common practice of Governor's Schools to share the capital costs of renovations and other financial projects.
Unlike FCPS, however, surrounding jurisdictions cannot vote on a bond to pay the extra costs of sending their students to Jefferson. Instead, they will have to find money from operational costs. It is, therefore, harder for the surrounding counties to justify the extra capital costs. If surrounding counties are unable to pay the fee, they will no longer be able to send students to Jefferson.
If the 300 or so spots that go to students of these surrounding jurisdictions have to be filled by FCPS students, what is at stake? We would no longer be a regional Governor's School and benefit from the amazing resources our jurisdictions' students bring to the overall diversity of our student body. We talk about diversity a lot here. This type of diversity is an important part of who we are.
Jefferson garners top students from not only Fairfax, but Loudoun, Arlington and Prince William counties as well as Falls Church City. On our staff alone, three students commute from outside of Fairfax.
Students from outside of Fairfax are some of the best at this school. They not only enrich our classrooms, but are also some of the most involved students in research and student government. One of Jefferson's four Siemens finalists this year is a student from Loudoun, for example.
If other counties were no longer able to send students to Jefferson, more Fairfax students would be given the opportunity to attend. However, finding some many additional FCPS students interested in Jefferson is not necessarily easy. We don't know that there are that many additional students in Fairfax as qualified and motivated as the ones Jefferson already accepts.
Our geographic diversity also allows for more partnerships with corporations and organizations. This opens up internship opportunities for our students.
The staff of tjTODAY believes that without our geographic diversity, Jefferson will lose its unique combination of resources and opportunities. Our students are, after all, our primary resource.
At the same time, sharing resources means sharing responsibility. We realize that the other jurisdictions have tight budgets, just as FCPS does, but we hope this doesn't cause Jefferson to lose any of our juristictional partnerships that contribute to the integrated community we have striven to be.
(This article originally appeared in the April 12, 2013 print edition.)