FCPS asks counties to contribute to renovation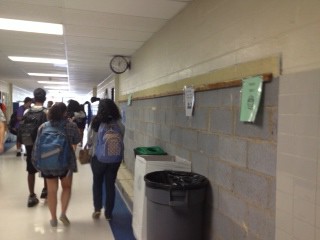 Senior Sajala Shukla, who is a student from Loudoun County, was accepted to both Jefferson and the Loudoun Academy of Science (AOS). She assessed her options thoroughly and even met with administrators at AOS before making her decision. Ultimately, Jefferson's student body was the deciding factor.
"TJ had more of the community I was looking for. There are opportunities here from all over Northern Virginia. That's what helped me decide," she said.
Whether surrounding Northern Virginia jurisdictions will be able to afford to continue sending students to Jefferson after FCPS Superintendent Jack Dale proposed they contribute to Jefferson's renovation bill is now moot.
Dale's proposal was approved as part of the FCPS School Board's Capital Improvement Program for the Fiscal Year 2014. The renovation bill was originally calculated at $90 million before the bidding on Jefferson's renovation was complete. Because the number has fallen to $67.44 million, the estimations of the per capita surcharge for each county are not yet finalized.
Students from Loudoun, Arlington and Prince William counties as well as Falls Church City currently attend Jefferson. Out of the 1844 students attending, 325 come from these jurisdictions surrounding Fairfax County. Because of the request to contribute financially to the renovation's capital costs, many of these jurisdictions are now questioning whether or not it is worth it to send their students to Jefferson.
"The other jurisdictions are a little concerned by the increase in tuition," Dale said.
Surrounding counties would be asked to pay an additional per student fee starting in the 2014-2015 school year. The counties will have the option to either pay in full in 2015, or to make annual payments over 30 years. Currently, contributing jurisdictions pay a fee that covers only operational costs.
The $67.44 million price tag, an expense that will roughly double the size of the school, does not include the costs of the updates to technology infrastructure and laboratory equipment that is being funded privately through the TJ Partnership Fund.
Dale believes the proposal is fair and supports Jefferson remaining a regional Governor's School.
"The strength of Jefferson is not only its science and technology curriculum, but its valuable partnerships across the region," he said.
Loudoun County, which currently sends 203 students to Jefferson, has the largest enrollment after Fairfax. According to Eric Hornberger, chairman of the Loudoun County School Board, it is too soon for Loudoun to make a decision on future enrollment based on the proposal.
"It is just too early to go into any specifics without more information first and foremost from Fairfax, which has not been forthcoming," he said.
The Loudoun County Board of Supervisors recently approved a budget for the upcoming fiscal year. The budget was $16 million less than their school board anticipated. This will delay Loudoun's plans to establish the Advanced Technology Academy, a school comparable to TJ.
"Our own Curriculum and Instruction Committee has only recently been analyzing plans to expand and further enrich our own Charles S.Monroe Technology Program as well as our AOS program," Hornberger said.
"Given the news reports about Fairfax's intentions regarding TJ, we have decided to also include the future of that programming option for Loudoun's students in that analysis with an eye towards potentially incorporating some courses offered at TJ into our course offerings," he said.
Arlington County is questioning whether or not it will be financially feasible to pay the extra fee. The county has been growing about 3.7 percent per year, according to Arlington County School Board member Noah Simon. Arlington County currently sends 60 students to Jefferson.
"We definitely support sending students to TJ," Simon said. "But there is a $24 million budget shortfall this year, and at the rate at which we're growing, we may find it difficult to contribute to extra capital costs."
Simon visited Jefferson last month and was given a tour by students from Arlington County who attend Jefferson.
"I am grateful to Dr. Glazer for the tour," Simon said. "I am a firm supporter of our partnership with TJ, and I want it to continue. Hopefully, budget won't dictate that decision."
Arlington student's alternatives include comprehensive high schools, such as Washington and Lee and H-B Woodlawn, which are highly ranked nationally. However, some students believe opportunities at Jefferson cannot be found elsewhere in Arlington County.
"In my experience, the gifted program in Arlington definitely leaves something to be desired," senior Rachel Merriman-Goldring said. "While at TJ, I've gotten to take Marine Biology, Alternative Energy Systems, prototyping and other courses which are not offered at my home high school. The research opportunities are also amazing."
Prince William County sends around 60 students to Jefferson as well. According to Prince William County School Board Member Steven Keen from the Woodbridge District, Prince William will probably not sever their ties with Jefferson.
"Prince William County should definitely continue sending students to TJ," Keen said. "There is nothing like TJ anywhere else, even in our wonderful system. But that doesn't mean that we don't provide excellent opportunities for advanced programs in areas other than science and technology."
Some counties have already pulled out their enrollment, such as Fauquier County Public Schools, whereas other counties are considering reestablishing a partnership with Jefferson. The Alexandria City School Board planned to discuss the feasibility of reenrolling students once more, but the renovation premium may cut the conversation short.
"I believe this board was going to consider the topic in the coming months. However, with the proposal of the renovations, I am not sure if we can have a realistic conversation for the future," Alexandria City School Board Chairman Karen Graf said.
"We aren't prepared to contribute to Fairfax County's building needs at this time. Unfortunately, the capital improvement issues will likely be the focus of our conversation about Thomas Jefferson instead of the learning opportunities that Governor's Schools are supposed to afford the area."
Fairfax County School Board already has appropriated money that covers the full cost of the renovation through a bond, even if surrounding jurisdictions pull out enrollment.
Unlike Fairfax, the surrounding counties cannot ask their communities to approve a bond to pay the extra capital cost. Rather, the jurisdictions would need to appropriate operational costs. If the jurisdictions cannot pay the extra fee, they will no longer be given the option to enroll students at Jefferson. The slots that currently go to them would be filled by students from Fairfax County.
"I'm not sure there would be a problem filling all the spots. The funds come from per student tuition and Fairfax students will be able to fill the void," Dale said. "TJ receives over 3,000 applicants per year so there are plenty of kids interested in filling the spots."
Many students are apprehensive of losing the network Jefferson creates from enrollment across Northern Virginia.
"TJ is not just a school, but a community for students to be rewarded with like-minded companions stretching from all around Northern Virginia," junior Billy Moses said.
The surrounding school boards have one more year to make their decision. Students who are already attending will not be affected if their county pulls out.
Principal Evan Glazer hopes Jefferson remains an option for students across the region.
"It is in our school's best interest that the participating school districts have the opportunity to send students here. TJ has a regional focus that supports our outreach programs and partnerships with businesses and universities," Glazer said. "I would love for even more school districts, such as Alexandria City and Manassas City to enroll here."
(This article originally appeared in the April 12, 2013 print edition.)