TjTODAY featured in high school administrator magazine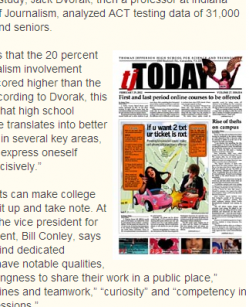 In the March 2013 issue of the American Association of School Administrators' magazine, "School Administrator," tjTODAY was highlighted as an exemplar of scholastic journalism. An image of the February 2012 edition of tjTODAY was used in the article, which discussed the study of journalism in high school.
Logan Aimone, the director of the National Scholastic Press Association, chose tjTODAY from the current field of Pacemaker winners to be a candidate for the honor.
"I'm pleased that superintendents and administrators around the whole country have the opportunity to see the great work tjTODAY is doing," Principal Evan Glazer said, "so that they can point their schools in the direction of our newspaper for great coverage."