WUSA 9 News anchor interviews InvenTeam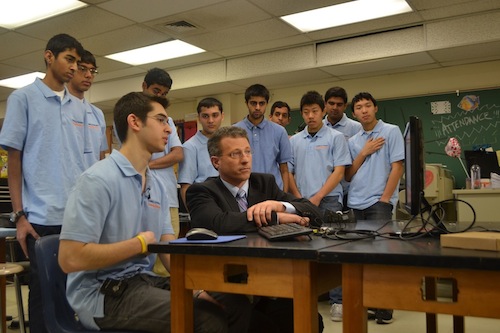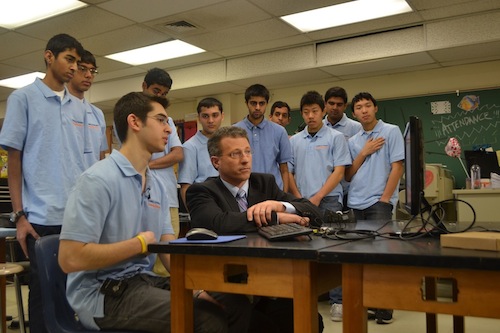 A WUSA 9 News team came to campus on Feb. 7 to interview the InvenTeam, a group of seniors working on creating an emotive aid for Asperger's patients and children with autism.
A dozen seniors in blue collared shirts surround a Neuroscience Research lab computer screen covered in programming code. Beside them is Mike Hydeck, the morning anchor of WUSA 9 News.
Hydeck came to Jefferson during last week's JLC to report on the InvenTeam's recognized project, which has targeted innovative help for individuals with Autism Spectrum Disorder (ASD).
The InvenTeam is a group of seniors, led by Neuroscience Research lab director Mark Hannum.
Last year, the seniors received a grant for their project from the InvenTeams initiative, which is sponsored by the Lemelson-MIT program. They were recognized as one of the 16 teams throughout the nation.
When asked why they chose to work with autism, the team responded that the project's impact on society was one of the driving factors.
"We're dealing with something that's very prevalent in our society, and we feel that there's a definite way we can use a technical application to address some of the symptoms of autism," senior Suhas Gondi said.
The students are using a single-board computer called Rasberry Pi to create a computational algorithm for an emotive aid that will allow both autism and Asperger's patients to recognize the emotions of people they are speaking to.
The program will use characteristics of sound, such as frequency, pitch and energy, to detect the emotion in a voice. That emotion will then be displayed through images and writing on a bracelet or watch.
Hydeck asked the students how responsive the community has been to their ideas. The InvenTeam has already contacted Autism Speaks and other organizations that have expressed interest in the aid.
"One of our main goals is to give the device to these organizations after developing a good prototype and receive feedback on how to improve our product," senior Yash Bhatnagar said.
Currently, the team is sorting through a database of voice recordings by professional actors expressing various emotions. They played some of the samples for Hydeck.
The actors recited numbers rather than full sentences, so that the emotion, rather than the content of the line, goes through to the program.
After talking to some of the students, Hydeck also interviewed Hannum,
"People often think that science and communication are mutually exclusive, but you guys do a phenomenal job explaining your project," Hydeck said. "It shows that you understand how it can be applicable to the real world, not just in the theoretical sense."
During the interview, Hannum agreed with Hydeck's viewpoint.
"The students really are encouraged not only to develop scientific skills but also communication skills," he said. "I live by the philosophy that science not communicated is science not done."
WUSA 9 News will run the interview during its various news programs starting in the morning on Thurs., Feb. 14.