New frozen yogurt store serves healthy treat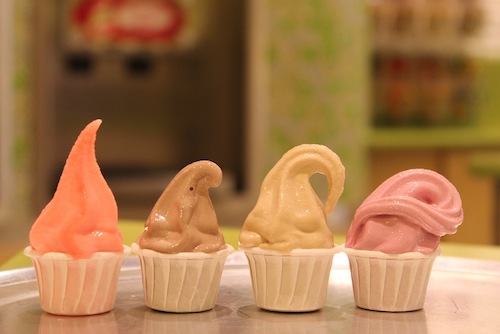 In the past year, frozen yogurt (froyo) shops have become a common occurrence and are open in nearly every shopping center. Now, the frozen yogurt craze has reached the Jefferson community. Located within the perfect walking distance, Menchies held its Grand Opening on Nov. 15 in the Pinecrest Plaza shopping center.
Like other froyo places, such as Sweet Frog and Red Mango, Menchies is self-serve, allowing customers the luxury of getting their own yogurt creations without restrictions. Simply choose any combination of flavors, pick your toppings and pay based on weight.
Before selecting your yogurt, you have the option of sampling any of the 14 available flavors. Choices range from Rich Butter Toffee to Blueberry Açai Tart to even Ice Cream Sandwich Bar, a delightful froyo rendition of the classic ice cream treat.
While there are 14 choices, the aforementioned flavors represent some of the better options offered at Menchies. The Fruit Punch Sorbet and Kiwi Strawberry Sorbet were two of the fruit flavored options that did not have the same texture as the other yogurts, and tasted more like smoothies. While they may not hold true to the concept of frozen yogurt, they make up for it by being relatively healthy.
Beside the wall of yogurt flavors, Menchies has its topping stand, with standard toppings such as chopped fruits, candy and cookies. However, the one drawback of this froyo place is that it has a limited selection of toppings compared to other places. Additionally, the chopped fruit did not look fresh. Still, the fair number of topping and froyo combinations makes for a unique snack each visit.
So if you're in the mood for some ice cream after school, head on over to Menchies for this healthier alternative for a delicious, after-school treat. Be sure to periodically check out the store's Facebook page before, for special discounts, promotions and free giveaways.
(This article originally appeared in the January 25, 2013 print edition.)